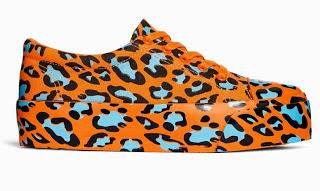 Today we wanted to highlight something a bit different. We're all for showing the adventurous side of footwear and we know that doesn't always mean a sick heel....sometimes, we you see above, it comes in a flat footwear style in a standout pattern. Seen here breaking all the fashion rules is the

ASOS Deadline Flatform Sneaker

. This edgy footwear silhouette features a lightweight, textile upper in an intensely bright leopard print, lace-up closure, shaped and padded cuffs (which really helps against the usual chafing of the ankles), a chunky, 2" flatform sole completely covered in the bright leopard print for a uniform look and a textured tread for protection against slipping. We know this style wont appeal to everyone but we differently see the fashion aspect. They're cute, edgy, funky, looks greatvwith jeans jeans or shorts, and cost only $41.92 on ASOS.com.