What a fucking turkey of a movie.  Gobble gobble.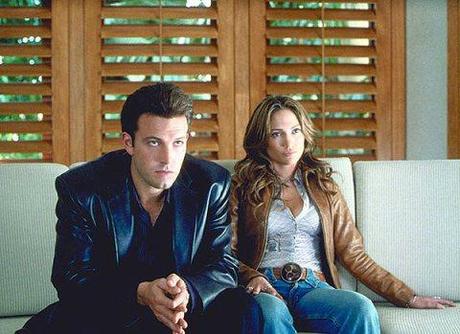 Larry Gigli (Ben Affleck) is a low-level Los Angeles mob enforcer. His volatile boss, Louis (Lenny Venito), hires Gigli to kidnap Brian (newcomer Justin Bartha), the mentally handicapped younger brother of a federal prosecutor who's about to bring Louis' boss to trial in New York. Gigli gets the kid home without a hitch. Then a beautiful woman (Jennifer Lopez) shows up at his door. She says her name is Ricki, and Gigli soon learns that the nervous Louis has hired her to keep an eye on him. "In every relationship," Gigli soon finds himself expounding to his unwanted partner, "there's a bull and a cow." His efforts to maintain control of the situation are further hampered by the brief appearance of the insane Detective Stanley Jacobellis (Christopher Walken) and a forced visit to his overbearing mother's (Lainie Kazan) house. To make matters worse, when Gigli expresses his attraction to Ricki, he learns that she's a lesbian. She, meanwhile, proves herself considerably more capable than the lunkheaded Gigli, winning their war of words and even scaring off a rowdy group of high school kids. As Gigli and Ricki continue to look after the young, innocent Brian, they find themselves increasingly attracted to one another. But their potential budding romance is put on hold when Starkman (Al Pacino) arrives from New York, angry about how his affairs are being handled.~ Josh Ralske, Rovi
Shit I didn't think that this movie would be so terribly boring.  Gigli has this connotation as being the worst movie ever, but I think that is a bit of a stretch.  I am not defending this movie in anyway, but it is certainly the most boring and uneventful movie ever.  The problem with this is that the movie has fuck all for chemistry between a real life couple at the time and you get zero sparks at all.  Shit my dog has more chemistry with his favorite toy than the two leads do at all.  It is an incredibly forced movie with two leads who just outright sink this ship.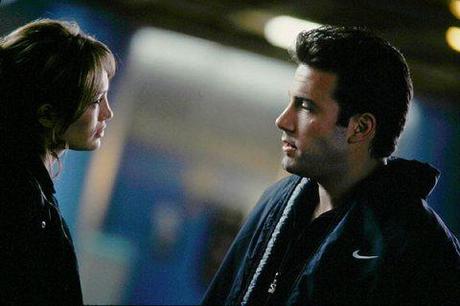 It's a sad thing to see that Affleck is just hamming it up and not even in a good way in Gigli.  I get that he has gotten better over time which is fantastic, but man even he should have known better.  J-Lo and Affleck are just downright atrocious in this movie.  Affleck plays this uber bullish character, some sort of thick accented gangster who is just all chest thumping and annoying.  The fact that we are supposed to give a shit about the character is offensive since the lead is not even worth our attention.  J-Lo doesn't even matter really in this movie.  She will need to stick to making sappy romance movies and singing cause jumping into a character that does have a little depth doesn't even manage to accomplish that simple task.  Their line deliveries and dialog is supposed to be cutsey with hints of biting affection, but the lines are just so blatantly bad that you can't take them serious.  "Gobble Gobble" yeah J-Lo utters that line when referring to the fact that it's turkey time, meaning boning time or something stupidly sexual.
Nothing can really save this trainwreck movie.  It's bad on the level that every aspect of the movie feels cheap and incomplete.  The acting, atrocious.  The story, other movies have done it way better.  The dialogue, truly groan inducing.  The only good thing is Christopher Walken and his cameo, cause any movie that has Walken in it, means that there is one good thing in a bad movie.  Gigli dissolves into this will they or won't they setup where The Bull (Affleck) wants to bang The Cow (J-Lo), which would be interesting if this wasn't just bullshit and terrible to begin with.
The most boring and terrible movie out there.  Gigli fails to even convince me that those two were ever a couple or even had chemistry to begin with.