copyright 2015 Art of Living/PrimaMedia,Inc/Maria Liberati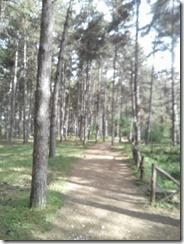 Japanese Therapy here in the mountains of Abruzzo..if you have ever heard of the Japanese word  '
shinrun-yoku
' it means 'taking in the atmosphere of the forest'..and taking a stroll in this beautiful park filled with pine trees here is the perfect way to get in your morning therapy of
shinrun-yoku
..especially on a sunny Spring Day..some even even translate  it  as Forest Bathing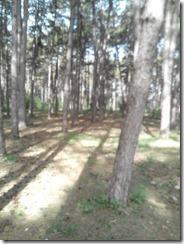 The apricots have begun to make their appearance into summer and while on this morning's 'shinrun-yoku' my mind was intently concentrating on what to do with a basket full of fresh apricots….and fresh mint overflowing in the garden… here is the answer…
Chocolate Topped Apricot Mousse
For Apricot Mousse:
* 2 lbs of fresh apricots-washed, cut in half with pit removed
*3 tblsps sugar
*2 tblsps butter (unsalted)
For crumble:
* 1-16 oz chocolate bar (containing at least 60%  cocoa)
*Almonds-3 ounces-peeled ,chopped
*3 tblsps butter (unsalted)
*4 tblsps flour
*3 tblsps brown sugar
*1 tablespoon powdered unsweetened cocoa
For Cream: Place halved apricots in a pan with sugar and butter, cook for 10 minutes over low to medium heat or until the apricots have lightly caramelized. Remove from heat, place in food processor till creamy.
For crumble:
Place butter on bowl until room temperature and softened. Place in flour, almonds,sugar, powdered cocoa. Blend together. Grate chocolate bar and mix in. Place in refrigerator till mixture has a firm  consistency. Remove from refrigerator and grate dough (using cheese grater with larger holes). Grate onto a piece of baking paper placed on a cookie sheet.
Preheat oven for 300 degrees and bake for 15 minutes. Remove from oven, separate crumbles gently with fork or fingers. Let cool.
Divide apricot cream into 4 glasses and top with chocolate crumble,garnish with mint leaves and serve.
For more recipes get your copy of
The Basic Art of Italian Cooking: Holidays and Special Occasions-2nd edition-winner of the Gourmand World Awards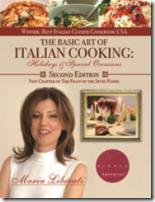 The Basic Art of Italian Cooking: DaVinci Style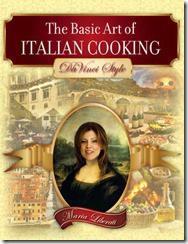 The Basic Art of Italian Cooking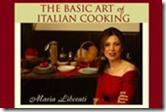 Hope to see you soon at some of my upcoming events
Want to learn to cook in the mountains of Abruzzo, Italy?  Some spots available now for private and semi private cooking classes, including culinary market tours here In Abruzzo, Italy? If interested, email for my schedule and availability at
Have you ever dreamed of being a food blogger? Share your love of food with the world.. If so join me in my food blogging classes in the Philadelphia are in the month of June at:
*Temple University- Ambler Campus in Ambler Pennsylvania  http://noncredit.temple.edu/search/publicCourseSearchDetails.do?method=load&courseId=3041214
*Delaware Valley College in Doylestown, PA http://www.localwineevents.com/events/detail/585584/maria-liberatis-food-blogging-course-at-delaware-valley-university
*Bucks County Community College, Newtown, Pa http://www.localwineevents.com/events/detail/585582/newtown-maria-liberatis-food-blogging-101-course-at-bucks-county-community-college
*Burlington County Community College-Food Writing-http://www.localwineevents.com/events/detail/585588/mount-holly-maria-liberatis-food-writing-course-at-burlington-county-college
*Private and Semi Private Food Blogging Classes also available in Abruzzo, Italy and Rome Italy at various venues upon my availability. Email for my schedule and information at :  [email protected]
Here are some  upcoming cooking demo/book signings also
*See you at Stratford Public Library in Stratford, NJ on June 11th, register here http://www.localwineevents.com/events/detail/585589/stratford-celebrity-chef-maria-liberati-cooking-demo-at-stratford-public-library
Sunday, June 7th, 12:30 PM to 2:30 PM, Secolari Artisan Oils and Vinegars,
The Mall in Columbia, 10300 Little Patuxent Parkway, Columbia, MD 21044, cooking demo, sampling and book signing
Secolari The gift of artisan oils, vinegars & other enrichments  http://secolarievoo.com/
– See more at: http://www.marialiberati.com/blog2/#sthash.KAEoep7K.dpuf