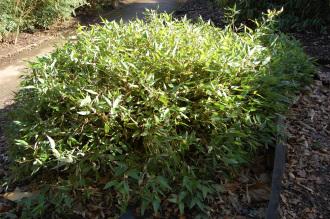 Shibataea chinensis (01/03/2015, Kew Gardens, London)
Position: Full sun to dappled shade
Flowering period: N/A
Soil: Moist, well drained
Eventual Height: 60cm
Eventual Spread: 1m
Hardiness: 6a, 6b, 7a, 7b, 8a, 8b, 9a, 9b, 10a, 10b
Family: Poaceae
Shibataea chinensis is an evergreen low growing bamboo with a bushy habit. Its mid green leaves are lanceolate, up to 10cm long and 25mm wide. Its culms are up to 3mm in diameter. Its roots are rhizomes which enables its slow spread.
Shibataea chinensis, commonly known as Ruscus Bamboo, is native to east China and south west Japan. In its native habitat it grows on mountain slopes and forest margins.
The etymological root of the binomial name Shibataea is named after the Japanese botanist Keita Shibata (1878 – 1949). Chinensis is derived form the Latin meaning 'from China'.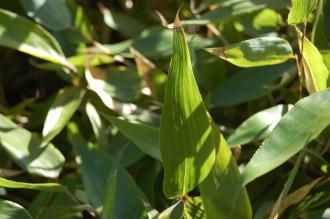 Shibataea chinensis Leaf (01/03/2015, Kew Gardens, London)
The landscape architect may find Shibataea chinensis useful as an effective low growing, evergreen ground cover bamboo, particularly useful on banks. It may also be clipped into a low growing hedge.
Ecologically, Shibataea chinensis is of little value to UK wildlife.
Shibataea chinensis prefers moist, fertile, well-drained soils. It will tolerate most pH of soil. It will not tolerate waterlogged soils.
Shibataea chinensis requires little maintenance. Large clumps may be divided in spring.