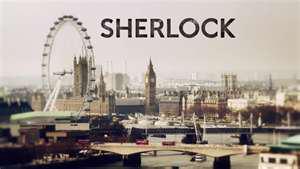 It's official, I now cannot stand Guy Ritchie and Robert Downey Jr.'s pitiful excuse for a portrayal on Sherlock Holmes. Before I let their work slide, but now I only needed to see one episode of this masterful work created by Mark Gatiss and Steven Moffat to know what a real Holmes portrayal was. Stunning, incredibly acted, fantastic direction and brilliantly acted, that's the easiest and simplest way to describe the fairly new BBC series, Sherlock.
To be clear (I'm sure there is no need to say what IÂ am about to say, but I thought I would anyway) this is only a review of the first Sherlock episode, not the entire first season. Normally with TV shows I review the whole season instead of wasting time reviewing each tiny little episode, but considering Sherlock is a miniseries with it episodes as long as many full length films, a separate review makes sense to me.
Sherlock Holmes and Jon Watson's first mystery case begin before they have met one another. A series (now three) of suicides have occurred and at this point seemed to be linked, but there's one problem the police are having the most trouble with, none of the suicidal people have any relation or connection, so the police must now turn to Sherlock Holmes (Benedict Cumberbatch) who is their unofficial consultant.
Along with his new partner John Watson (Martin Freeman) Holmes immediately has a lead on the case, confirming that the suicides are in fact murders, and even though nearly everyone is warning Doctor John Watson about his new friend, he tags right with Holmes as they try to solve their first murder together.
It may not seem like much coming from the written word, but trust me it is. A Study in Pink for me was more entertaining, intelligent, and thought-provoking than most mystery and/or thrillers I have ever seen, movie or TV show. Of course the episode was mostly spent putting together pieces for the surprise ending, and while the ending was satisfying, my favorite parts were in the middle. The way Holmes comes to his undeniably unrealistic conclusions is fascinating to me, for whatever reason, and it is all to the credit of Sherlock's brilliant (and I mean BRILLIANT) writing.
The show could not have been casted better, Benedict Cumberbatch puts Downey Jr. to shame, if you have seen this series I honestly cannot imagine anyone still enjoying Downey jr.'s work in Sherlock Holmes. Heck, I don't even want to mess with Game of Shadows, I know I won't care for it.
Martin Freeman took a little bit of getting used to, but mid way through A Study in Pink I was enjoying his work very much, and I think he is the right person to play the always loved character of John Watson. But do you know what this really means? Big hopes for The Hobbit!
Final Word – Calling all Sir Arthur Conan Doyle fans! If you are looking for a smart, well written retelling of his classic tales, here it is.
Grade: A