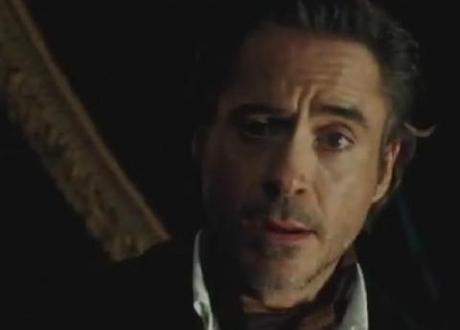 Robert Downey Jr as Sherlock Holmes
Robert Downey Jr returns as Sir Arthur Conan Doyle's iconic detective in Sherlock Holmes: A Game of Shadows, with Jude Law as sensible sidekick Dr Watson. The first film received mixed reviews in 2009 despite box office success, and old-school Holmes fans were not exactly thrilled about director Guy Ritchie's decision to modernise their hero. Can Ritchie win over his critics with this second outing?

Fun factor. "Holmes and Watson are happy and their escapades play out with such grace and brio that the fun is infectious," wrote Xan Brooks in The Guardian. Brooks pointed out that Ritchie's vision of Sherlock Holmes is rather different from Conan Doyle's intellectual original, but that this makes the film more enjoyable: "He gives us Holmes as seductive best mate; as martial arts adventurer; as the can-do hero of a tale that is colourful and boisterous."
Pantomime. According to The Telegraph's Robbie Collin, the film's "cross-dressing lead, hissable villain and oodles of double entendre" mean Sherlock Holmes: A Game of Shadows is reminiscent of pantomime – but Collin insisted this was a compliment. Collin praised the chemistry between Holmes and Watson, and said that the film is "rollicking good fun", despite a few dull moments.
Good cameos. Writing for ScreenDaily, Mark Adams was impressed by the main performances, arguing that Downey Jr seems more relaxed in the role of Holmes than in the first film. Adams also praised cameos by Rachel MacAdams as Irene Adler and Eddie Marsan as Inspector Lestrade, and singled out Stephen Fry's "deliciously intelligent" turn as Mycroft, Holmes's older brother.
Moriarty on screen. Variety's Brian Lowry described the face-off between Holmes and Jared Harris as Moriarty, the detective's mortal enemy in Conan Doyle's books, as the highlight of the film: "Amid the pantheon of screen Moriartys, Harris manages to make his version suave, erudite and menacing all at once." Indeed, Lowry said that although the character of Holmes is still rather more reminiscent of James Bond than purists may like, Ritchie has introduced more traditional elements in the second film.
Overworked. "The action stuff, perhaps arresting the first couple of times you see it, already seems hackneyed, mannered and overworked, an affectation of diminishing returns," wrote Todd McCarthy in The Hollywood Reporter. McCarthy argued that Sherlock Holmes: A Game of Shadows is full of "tedious detours and distractions", and that the film only picks up at its climax, when Holmes finally encounters Moriarty.