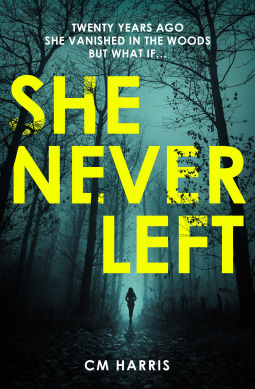 SOMETHING IS STIRRING IN THE HEART OF ILLINOIS
When Jane and TJ agree to attend their high school reunion they never expect to come face-to-face with classmate-turned-stalker Lincoln the moment they return home.
SOMETHING THAT SHOULD NEVER HAVE BEEN WOKEN
Unspoken words fester between them of the incident in the local woods twenty years ago when Evie vanished in a flash of amber light. They were the last three people to see her alive.
SOMETHING THAT SHOULD NEVER HAVE BEEN PROVOKED
But the trees have been whispering to Lincoln ever since, and as Jane and TJ arrive back in town, the voices call to him again, hissing three solitary words: she is here.
***
The girl waved goodbye to her friends and pointed the ten-speed toward the centre of The Thicket. CHAPTER ONE
***
(@0neMoreChapter_, 25 November 2021, ebook, 271 pages, #ARC from the publisher via @NetGalley and voluntarily reviewed)
***
***
This is a new author for me. I decided to read She Never Left because the blurb sounded like something I'd really enjoy. This is an original and entertaining book. I loved the blend of a traditional thriller with hints of the horror and supernatural. Does something other worldly lurk in the woods? What really happened to Evie? Is there a more rational explanation? What impressed me is the fact the truth is never spelled out in black and white and you're left to make up your own mind with a lot of unanswered questions.