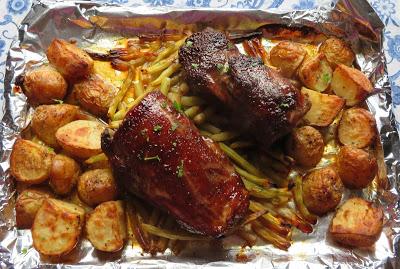 With there only being two of us, more often than not these days I only cook for two.  I had a piece of Pork Tenderloin in the freezer that I wanted to take out to make room for something else and so I roasted it up for us the other night.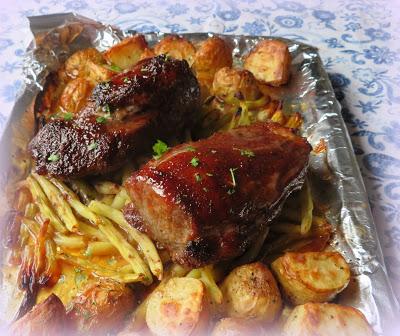 We only ever very rarely eat red meat, so this was a nice treat. I love sheet pan dinners.  They are quick and easy to throw together.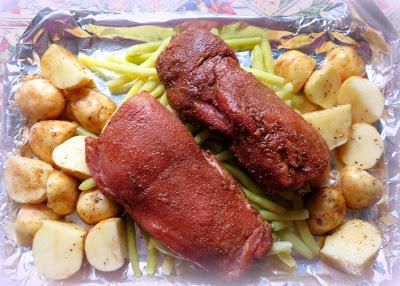 Everything just gets seasoned and thrown onto a baking sheet.  In this case I used quartered new potatoes (they were medium sized) and half a bag of frozen yellow beans, the four serving sized bag.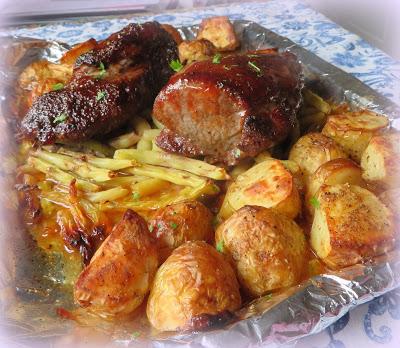 I tossed both the potatoes with some seasonings and a bit of olive oil. That helps the potatoes to crisp up when they are roasting and the beans do benefit from it as well.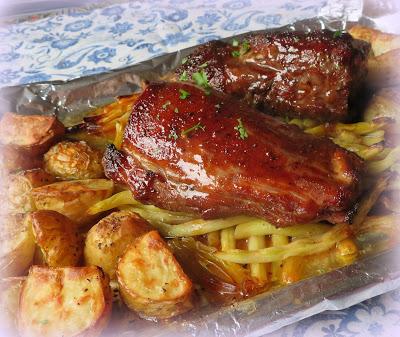 You can season your meat with just about anything.  Back when my children were growing up I used to make a fabulous pork tenderloin casserole that involved fried bacon and onions, cubed squares of pork, breaded with cracker crumbs and browned in the bacon fat, all thrown together and baked in a slow oven in some fruit juice. I used apple or orange, just whatever I had.  It was so tender and delicious. My family loved it.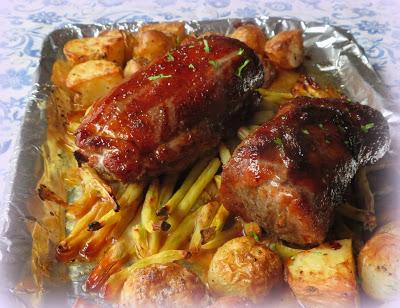 Today I used Oriental flavours.  I created a rub using Chinese five spice powder, brown sugar and some other bits.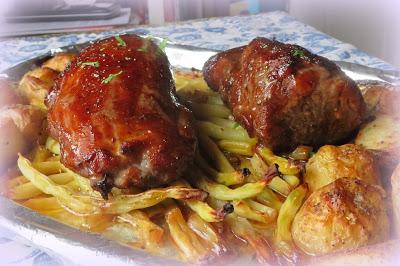 I cut the piece of pork in half and rubbed it all over with the rub and placed it on top of the beans on the baking sheet, leaving some space in between each piece of meat for the air to circulate.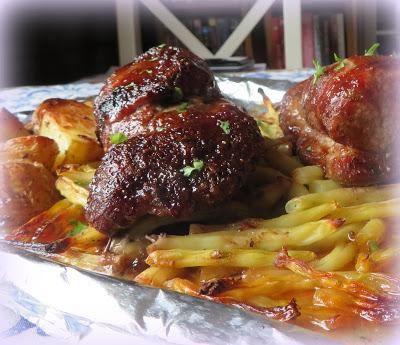 I brushed them generously with hoisin sauce and then popped the baking tray into the oven.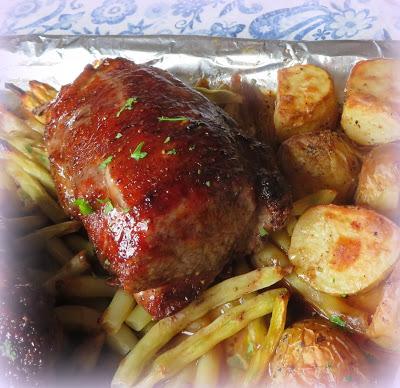 The oven is at a high temperature, so it cooks really fast. It almost sears in the heat and retains a lot of the moisture.  I basted it every so often with more hoisin sauce.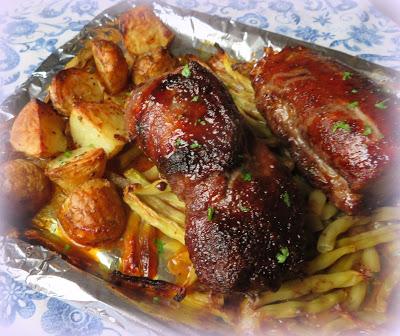 The moisture evaporating from the frozen beans helps to keep it tender and moist also,  which kind of works both ways because the pork also helps to flavor the beans!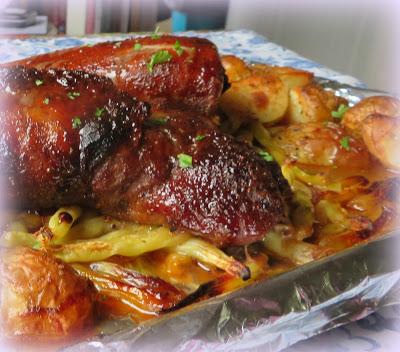 The potatoes get nice and crisp because they are open to the air at both ends of the pan.  Golden, crisp . . .  yummy!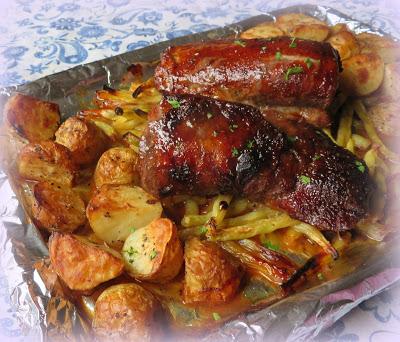 You will have just enough time to throw together a nice salad to serve along side of this fabulously tasty meal while it cooks.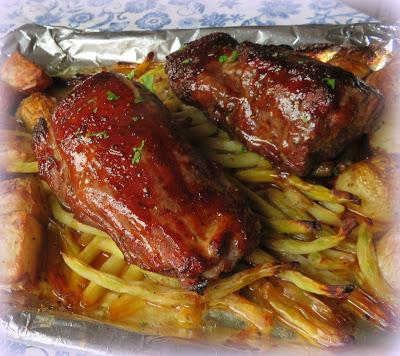 The internal temperature of the pork will be  between 63*C - 70*C (145*F - 160*F).  I prefer it on the lower end of the scale.  Just stick a thermometer into the thickest part of the meat.  If it needs a bit longer, then just bang it back in for a few more minutes.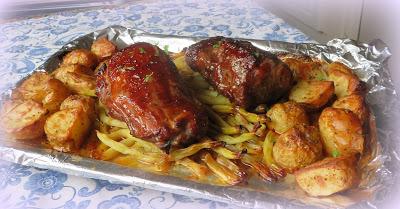 I suppose if you wanted to feed more people, you could just double everything and cook it on two baking sheets.  I guarantee your partner and your family are going to love this deliciously simple meal!
Yield:
Serves 2 Generously
Author:
Marie Rayner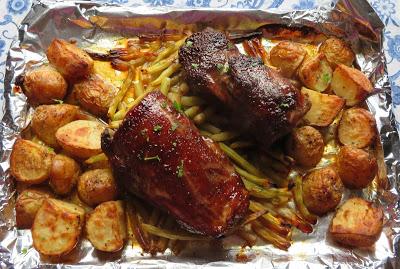 Sheet Pan Hoisin Pork Tenderloin for Two
Deliciously tender, perfectly cooked pork tenderloin, beautifully flavoured with oriental flavours and baked on a bed of string beans and roasted new potatoes. No fuss no muss, and if you line your baking sheet with foil, no washing up either!
ingredients:
For the pork:
1 (1 pound) pork tenderloin fillet, trimmed of any fat and sinew
1 TBS soft light brown sugar
1 tsp Chinese five spice
1/2 tsp fine sea salt
1/4 tsp garlic powder
1/4 tsp onion powder
1/4 tsp cracked black pepper
60g hoisin sauce (1/4 cup)
For the beans:
1/2 four serving size bag of frozen whole string beans (I used yellow beans)
1 tsp olive oil
salt and black pepper to taste
For the potatoes:
3/4 pound of new potatoes, halved, quarter if larger
1 TBS olive oil
1/2 tsp seasoning salt
1/4 tsp garlic powder
1/4 tsp cracked black pepper
instructions:
How to cook Sheet Pan Hoisin Pork Tenderloin for Two
Preheat the oven to 230*C/450*F/ gas mark7.  Line a baking tray with aluminum foil and spritz lightly with low fat cooking spray.
Wash and quarter your potatoes.  Pat dry and toss together in a bowl with the oil and all of the seasonings, turning to coat well.  Divide between both sides of the baking sheet, placing half on each side.
Toss your frozen beans together with the oil and seasonings in the same bowl and place into the center of the baking sheet.
Mix together the brown sugar, five spice powder, sea salt, black pepper, garlic powder and onion powder.  Take the trimmed tenderloin and cut it in half through the center crosswise.  Rub the pieces all over with the dry sugar mixture and place them on top of the beans.
Roast in the oven, brushing generously with the hoisin sauce every 10 minutes, for about 25 to 30 minutes, until the pork tests done and the potatoes are crisp and golden brown.
Remove from the oven.  Let the meat rest for several minutes before cutting into slices to serve.  Serve the sliced meat with a portion each of beans and potatoes.   A salad on the side goes very nicely!
Created using
The Recipes Generator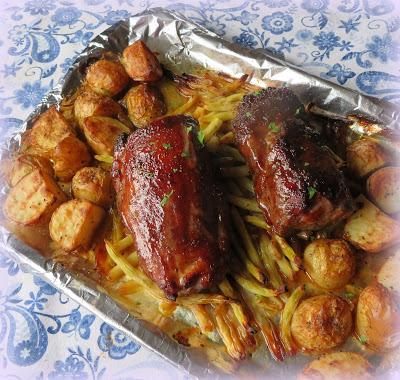 I've been trying to eat healthier and doing a lower carb style of eating lately.  This was actually cooked prior to beginning that. I've been trying to think of what I could do instead of the brown sugar and the hoisin sauce . . . You could use some Sukrin Gold brown sugar replacement, and I am not sure how much sugar there is in Hoisin sauce  I found a recipe for a
low carb Hoisin Sauce here
.  I haven't tried it, so I can't say if it is any good or not. I like Hoisin Sauce, so I am sure I will give it a go at some point.  In the meantime, I hope you will enjoy this fabulous supper for two!