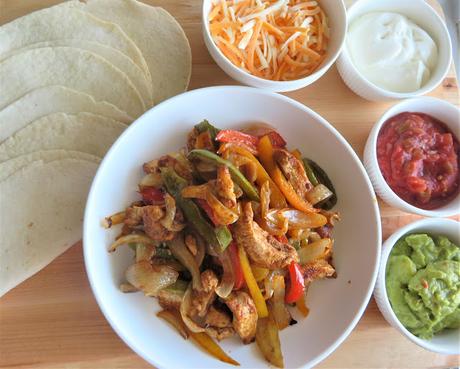 Sheet Pan Chicken Fajitas! Olé !!  This has to be one of the quickest, easiest and tastiest weeknight suppers ever! If you are like me and love Tex Mex Flavors, then you are going to love this.
Not only are they really simple to make, but clean up is a breeze!  Especially if you line your baking sheet with some aluminum foil!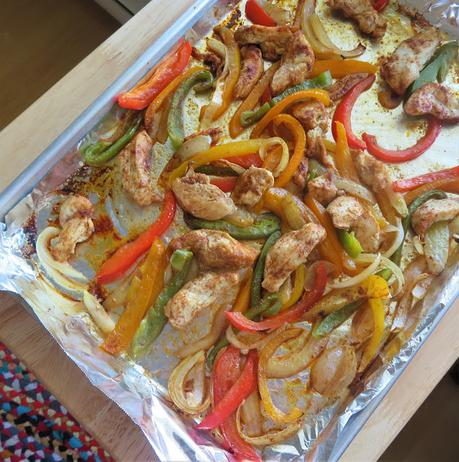 I'm all for easy these days. Whatever can get me in and out of the kitchen faster works for me!  And if it happens to be delicious on top of that, well, you have a winner winner chicken dinner!
Although I have never traveled to Mexico, I
love
adore Tex Mex and Mexican flavors. They were not something I grew up with. 
The most Tex Mex  my mother ever got was making chili con carne on Saturday nights for my dad from a recipe on the side of a tin of tomato soup!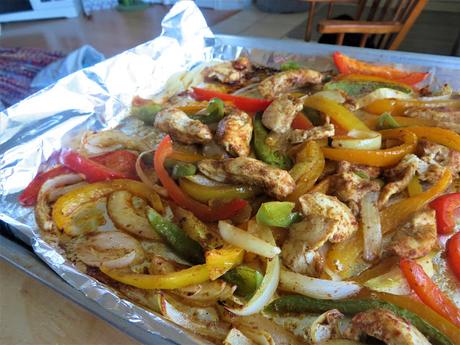 When I was married before and we were living in London, Ontario, we used to sometimes to go ChiChi's which was a Mexican food chain they had in the city.
I always got the Chimichangas. So, so, SOOO good!  I used to drink in those days and so I would get a Margarita to go along with them!  Also very good.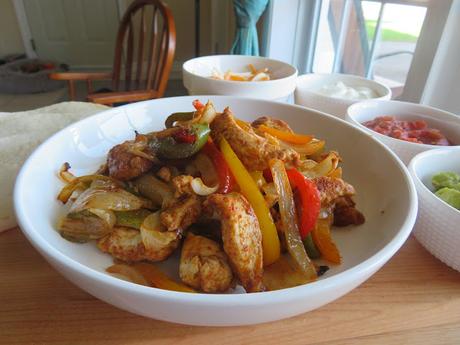 Then when we moved to New Brunswick we used to frequent a place in Fredericton called Mexicali Rosa's.  It had a great atmosphere, with red chili fairy lights,  Mexican mariachi music, etc.
You got free warm tortilla chips and fresh salsa while you were waiting for your meal. I always go the fajitas. They came hot to the table sizzling in their own cast iron skillet.  Sooooo yummy!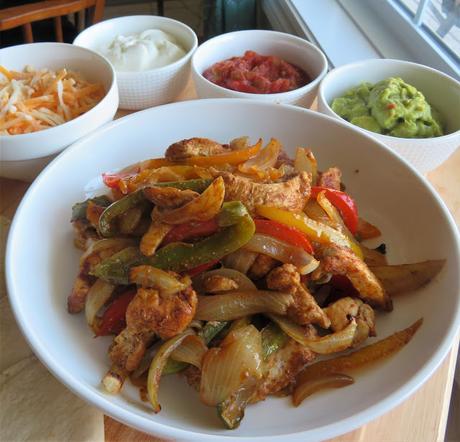 Other than, that any Mexican food, aside from my sister's nachos, I learned how to make at home via reading and experimentation. My après Thanksgiving and Christmas Turkey Enchiladas are legendary! 
I spied this recipe in a book I have from Ricardo, entitled Sheet Pan Everything. The recipe looked really simple and easy and the photo in the book, mighty tasty. I downsized the recipe to feed just two people.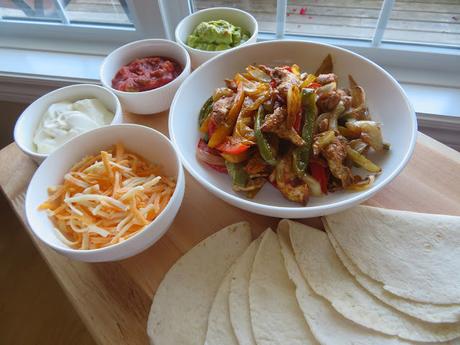 WHAT DO YOU NEED TO MAKE SHEET PAN CHICKEN FAJITAS
Simple, simple, simple. I bet you probably have everything in your larder right now to make these! 
boneless, skinless chicken (I like to use a mix of breast and thigh meat)
red, green and yellow bell peppers
onion
canola oil
mild chili powder, ground cumin, ground coriander
garlic powder
dried oregano leaf
salt and black pepper
fresh lime juice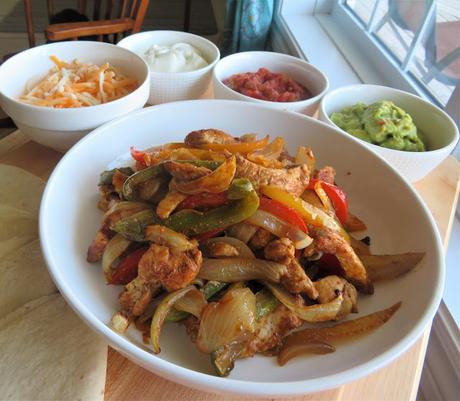 HOW TO MAKE SHEET PAN CHICKEN FAJITAS
 Again, nothing could be easier. You start by prepping your vegetables. I used a small red pepper and half each of a small green and yellow pepper. I also used a medium onion, peeled. Cut the peppers into thin strips and the onion into thin wedges.
If you are lazy like me, you will want to line your sheet pan with some foil for a really easy clean up.  Pop the vegetables onto the lined (or not) baking sheet and toss them together with a bit of seasoning and half the oil.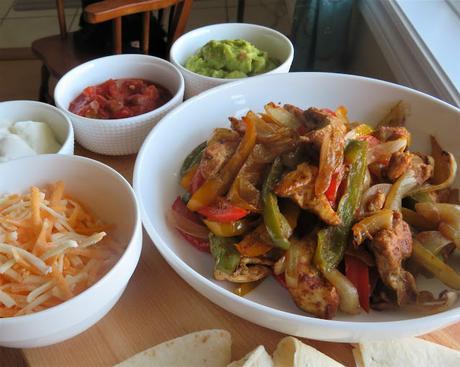 As I said, I like to use a mix of thigh and breast meat for variety. You can use all of one or all of the other, depending on your own taste.
Cut both meats into thin strips.  For the thighs, trim off any visible fat and cut crosswise into strips.  For the breasts I cut them in half horizontally and then crosswise into strips. Don't make your strips too thick or they won't cook in the recommended time.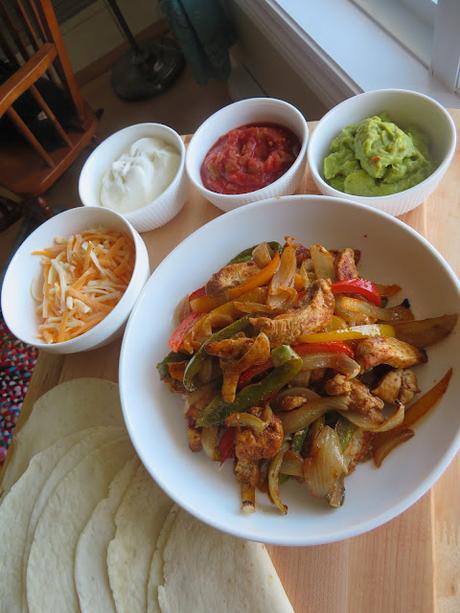 The chicken gets tossed together in a bowl with the spices, herbs, seasonings and remaining oil. If you really want to enhance the flavor, toast the cumin, chili powder, and coriander in a hot skillet for about 30 seconds before adding it to the chicken.
The chicken then gets added to the vegetables on the baking sheet and you pop the sheet into a fairly hot oven for 10 minutes.  Take it out stir, and then in again for a further 10 minutes.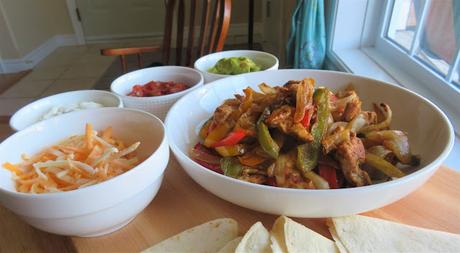 Take the baking sheet out, squeeze the lime juice over top and your filling for your fajitas is ready!  Easy peasy.
I heat the tortillas wrapped in foil in the oven for the last five minutes of the cook time for the chicken. Just pop the foil back right on the oven rack. They will be perfectly heated.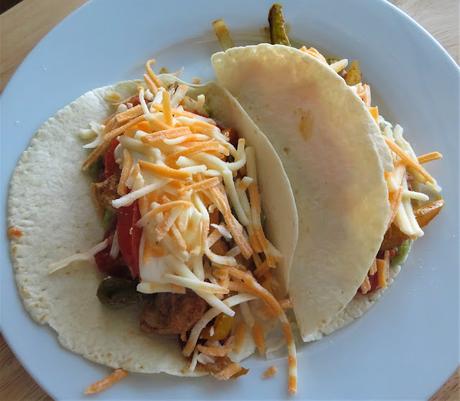 While everything is cooking you might want to get all of your toppings assembled.  I like guacamole, salsa, sour cream and cheese.
You may like something completely different. Some chopped spring onion would also be nice, but really not necessary.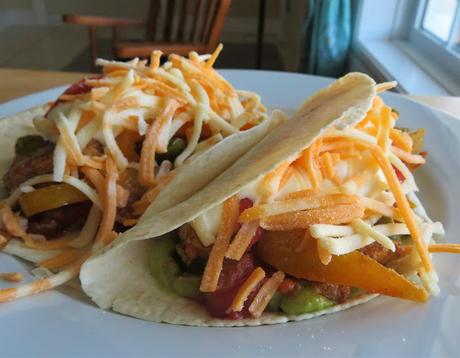 I pop the filling into a heated bowl and bring it to the table along with the tortillas and individual toppings, ready for people to build their own fajitas.  Don't forget additional lime wedges for squeezing! 
As you can see easy peasy, lemon squeasy as they say in the UK!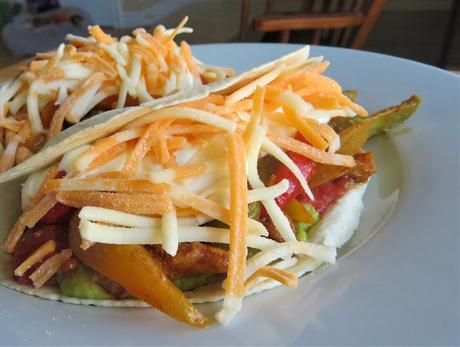 I dare say if you are into beef, you could slice sirloin steak or top round thinly and cook in much the same way.   I did use pre-shredded cheese today, but normally I would grate my own.
These were delicious!  So simple and yet incredibly tasty.  Why bother with a skillet and having to clean up the top of your stove if you don't have to! 
Chicken sheet pan fajitas for two. A very good thing. 😁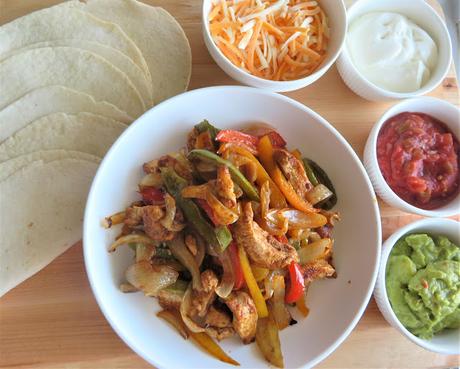 Sheet Pan Chicken Fajitas
Yield:
2
Author:
Marie Rayner
Prep time: 15 Min
Cook time: 20 Min
Total time: 35 Min
This is a quick and easy sheet pan supper, all in one with fab Tex Mex flavors. Perfectly sized for two but easily doubled.
Ingredients
1 small red pepper, trimmed, seeded and cut into strips
1/2 each yellow and green pepper, trimmed, seeded, and cut into strips
1 medium onion, peeled and cut into thin wedges
1 TBS canola oil
1 boneless skinless chicken thigh, cut into strips crosswise
1 boneless skinless chicken breast, cut in half lengthwise and then across into strips
1/2 TBS mild chili powder
1/2 tsp dried oregano
1/2 tsp ground cumin
1/4 tsp ground coriander
1/4 tsp garlic powder (not salt)
the juice of half lime
You will also need:
4 medium sized (8-inch round) soft flour tortillas
Toppings for serving: (all optional)
Prepared guacamole
Tomato salsa
Sour cream
1 cup (120g) mild grated cheese
1/2 lime cut into wedges
Instructions
Place your oven rack in the middle position in the oven. Preheat the oven to 425*F/ 220*C/ gas mark 7.  For easy clean up, line a rimmed baking sheet with some aluminum foil.
Place the vegetables on the baking sheet. Toss with 1/2 TBS of oil and some seasoning. Spread out.
Combine the chicken strips in a bowl with the remaining oil, the chili powder, garlic powder, cumin, coriander, oregano and some seasoning.  Add to the sheet pan with the vegetables.
Roast in the oven for about 10 minutes. Remove from the oven and give everything a good stir.  Return to the oven and roast for a further 10 minutes, until the chicken is cooked through and the juices run clear. Remove from the oven and squeeze the juice of half a lime over all.
In the meantime, wrap the tortillas in some aluminum foil.  Place into the oven, directly on the oven rack, for the last 5 minutes of the chicken cook time.
Remove from the oven.  Turn out into a bowl and serve at the table with your chosen toppings, the warmed tortillas and lime wedges for squeezing.
Did you make this recipe?
Tag @marierayner5530 on instagram and hashtag it #TheEnglishKitchen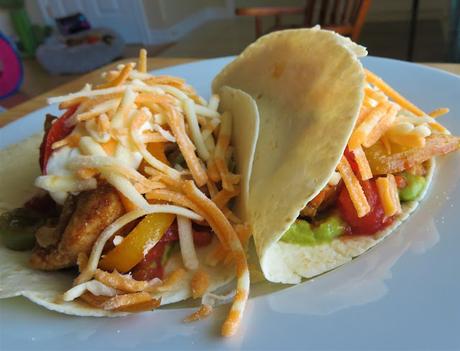 This content (written and photography) is the sole property of The English Kitchen. Any reposting or misuse is not permitted. If you are reading this elsewhere, please know that it is stolen content and you may report it to me at mariealicejoan at aol dot com. 
Follow me on Bloglovin