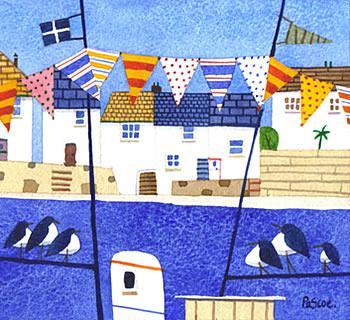 'Seaside Bunting' by Natalie Pascoe
…A 'borrowers' sized church nestled in a fern-gully hide away, next to the childhood home of the groom. Its ancient walls accommodate 80 guests with just a slither of an aisle for the bride to make an intimate entrance in a lace layered dress. The moody interior will be alight with candles nestled in lace-lined pickling jars, surrounded by tulle pom-poms to give a quirky edge to historic bricks. Jam jars stuffed with flowers will hang by a ribbon from each pew end to guide the groom, who will be suited in his best blue, wearing a simple button hole and possibly a pair of Vans.
I mean, c'mon – how could I not pick this entry?
Over the last few weeks we have been teaming up with the Lovely Lou from Whimsical Wonderland Wedding to offer one lucky bride and groom a chance to win free wedding photography. The only trick was that the bride and groom needed to convince us that they were having a ravishingly rustic do that we would be loathe to miss. And boy did you all enter. And enter. And enter. We heard about gorgeous Scottish shin-digs and saw mood boards full of rustic sassy-ness. It was so difficult to choose I nearly made everyone a winner. After I came to my senses (and Matt talked me down from the ledge) we knew that one entry always seemed to gravitate to the top of the pile….
Returning for the feast, nestled between the silver wear and glasses, reminders of the wild coast are harboured in hurricane lamps. Candle light will silhouette the shells, urchins, pebbles and driftwood collected over a year's worth of beachcombing.
We would like to offer a huge-normous (it really is a word, I swear) CONGRATULATIONS! to….
Kate & Adam
…whose gorgeous prose convinced us that we would be absolutely off our nut to miss their fabulous Cornish sea-side wedding.
So what did they win?
10 Hours of photography coverage
1 photographer + 1 assistant photographer
Disk of 200 fully retouched, high resolution images
£1000 value
Would you like to be as lucky as Kate & Adam? Well, watch this space as we have many more contest goodies in store for the year to come.
{lang: 'en-GB'}