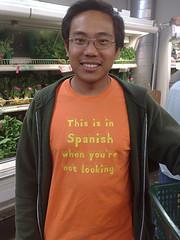 Image by allaboutgeorge via Flickr
There are countless ways a person can name and discover when has something to do with learners interested to learn Spanish language. They can choose from going to language schools and be formally equipped with the institutions' courses and credentials. Schools alone have lots of advantages that can lift your skills to a higher level, you know. As for other learners, they are satisfied using multimedia materials like movies, mp3, pod casts, and more.
Regardless of what method you are using to learn language, people will always go for the Internet. Oftentimes, they use the Internet to even learn Spanish online. That is not a new trend anymore. Whether their purpose is for review or rigid learning, the Internet is their most reliable and high-speed method in assisting their Spanish language learning.
So what are the things learners can really avail just to improve their Spanish learning? Well, learners—like you can choose to sharpen your skills even if you are learning in language schools because you can actually have access to websites offering free courses that can effectively perk up with your learning.
Do you know that you can search for various Spanish learning sites that can exercise your skills? Most exercises are prepared for beginners and intermediate learners, and only few for advanced. These are very helpful exercises and it will definitely hone you into the level of learner that you are looking forward to become.
Are you interested for such lists of exercise? Here are some:
Artículos Determinados (Definite Articles)
Bueno and Bien Exercises
Exercises – Spanish Demonstrative Adjectives
Exercises – Spanish Demonstrative Adjectives
Exercises. Spanish prepositions a – de
Frases negativas y afirmativas (Negative and affirmative sentences)
Spanish D.O. and I.O. Pronouns Exercises
Spanish D.O. and I.O. Pronouns Exercises
Possessive adjectives – Some exercises
HangMan – Negative and affirmative sentences
Las Formas Plurales de Adjetivos y Sustantivos (Plural Forms of Adjectives and Nouns)
Plural Words Quiz
See how helpful online resources are in assisting you when you learn Spanish language? Be resourceful in maximizing your ways in improving Spanish language learning. It's worth the effort.