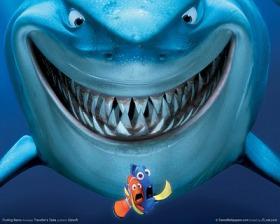 I've been subtlety prodded into writing about the one thing that I happen to spend 75% of my existence here in Japan doing (even more so than eating or frequenting bizarre locales): teaching. I'm always a little wary about writing about my teaching… for privacy's sake I suppose. But in my teaching of "Japan's Environmental Impact," I have felt the inspiration to share what's going on. Since it is so centralized on Japan, and since this blog focuses on Japan, and since the word should be out on topics such as the one below… self-permission is granted. Thus, SHARKS!
I became interested, no, moderately obsessed, with sharks after cage diving last summer in South Africa. Before the moment in time when a friendly great white took a bite out of my cage, approximately two inches from my face, my interest was fleeting, curious even. They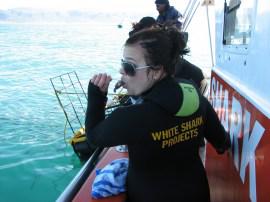 never really scared me but I never really thought of them as anything more than something I just passionately wanted to dive with. My last shark memory had involved running back into the ocean in Puerto Rico after a curious sand shark had scared most swimmers out of the water. I had returned after retrieving my camera

So post S.A., I was asked to give a guest lecture on sharks. And from there, I decided to focus on them for unit one of my eco class. The research and upheaval began. Similar to how I reacted when I first saw "
The Cove
," I became a little eco-terroristy about sharks. I was angry about
shark fin soup
, angry that fins were being dried on the shores of Chiba, angry that a
whole industry
from being made of it up in
Kesennuma
(a port town destroyed by the tsunami but is since making its recovery), and later became angry when the damn soup was served up at our school's annual charity event… right in the middle of my shark unit. And as always when I become blindly passionate about something, it took me a bit of time to see both sides and step back. In the midst of it all, including heavy promotion of our final project (explained below) via a flyer and facebook, a past student made a singular, face-slapping, biting sort of comment that went a something like this: "Shark fins are my hometown's only source of income. We need them to survive, fool." Something like that anyway. Touchée.
For the student's final project, I decided to have us sponsor an awareness campaign about sharks for the general public (that being our campus). Students were able to pick a theme and a project and go crazy from there. The range of creativity and dedication became quite obvious; projects ranged from meticulously drawn cartoons, to a mosaic rendition of a shark, to a street interview style video, to shark awareness coupons.  Class lessons were recycled into vivid colors, kawaii charts, and storytelling of sorts: "Did you know that hot dogs kill more people than sharks every year?" "Shark Awareness Hour" as it became known (after having first been, very wrongly, conceived as "Shark Lunch Hour") had a turn out of modest size, but the overwhelming support was evident nonetheless. I am lucky to have such jawsome colleagues and students alike… really, truly thank you. Stay tuned for a news article on their project coming out on PangeaSeed, a very helpful shark conservation website originating from Tokyo

This slideshow requires JavaScript.