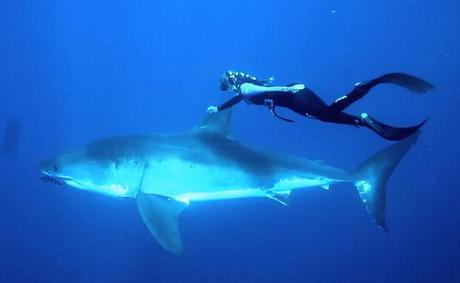 This is an AMAZING video of 'shark whisperer' Ocean Ramsey swimming with a great white shark off the coast of Mexico. At one point she even grabs a hold of its dorsal fin and gets pulled along for a little while.
"There is an instinctive fear, knowing what the animals are capable of, but it's hard to describe what it's like to be in the presence of such a magnificent animal," she said. "I felt extremely privileged to have such a close encounter."
It is estimated that there are fewer than 350 great whites swimming along the Pacific Coast and fewer than 3,500 left worldwide.
Oliphant said he and Ramsey want the video to touch as many people as possible given the shark's plight.