Diversity in action
For the past four months I have been touring the small groups in my church, talking about my experiences of visiting other churches during my sabbatical, and sharing a vision for the church's future. That vision focuses on shifting our center of gravity from church to discipleship. In particular, we want to focus on the way our lives are shaped as Christian disciples, and the ways in which we can help each other to shape up. On Wednesday night, after months of prayer and planning, I started teaching a new course on this very subject, and was delighted to see 58 people from teens to 70s turn up.
In order to welcome everybody, I had placed a gift box containing their course material in the center of each table: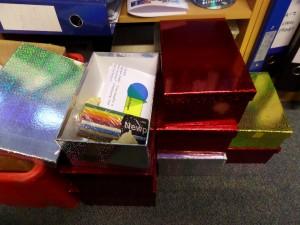 One of the items in the gift box was a pack of multi-coloured modelling clay. On subsequent weeks we will use it to 'fashion' the answers to different questions and express some of the hopes and challenges in our lives. For this week, though, we just used it as an aid to prayer. People were invited to choose some of the clay, and model it in their hands as an act of prayer whilst listening to 'Take me as I am' by the Brooklyn Taberbacle Choir.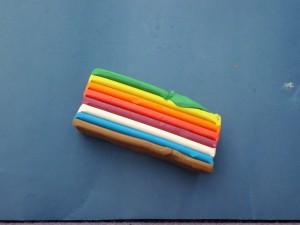 Today I came to clear up after the course. There were pens to put away and worksheets to file. Just LOOK though, at what the plain blocks of clay had become. (You will need to click on the image below to appreciate it fully). Some days it is an inestimable privilege to work with God's people…