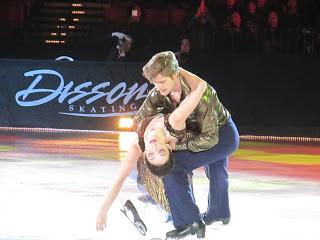 I've been wanting to attend Shall We Dance on Ice since the show was first created a few years ago, and it was finally held in an easily accessible city! I traveled to Las Vegas this past weekend to see the skating and dance show at the Mandalay Bay Events Center. Both the skating and the dancing were divine, and the Goo Goo Dolls exceeded my expectations as the live band. The ice dance cast was comprised of Meryl Davis and Charlie White, Naomi Lang and Todd Gilles (Peter Tchernyshev's mother passed away two weeks ago, so he wasn't able to make it), Sinead Kerr-Marshall and John Kerr, Isabella Tobias and Ilia Tkachenko, Alexandra Paul and Mitch Islam, Laurence Fournier Beaudry and Nikolaj Sorensen, Kim Navarro and Brent Bommentre, Beata Handra and Joel Dear.
The theme of the show was music and dancing through the decades, and it started with the 50's and 60's. Chelsie Hightower (from So You Think You Can Dance and Dancing With the Stars) and Tony Dovolani (DWTS pro) did a beautiful foxtrot on the stage, and then the skaters took to the ice for their own foxtrots.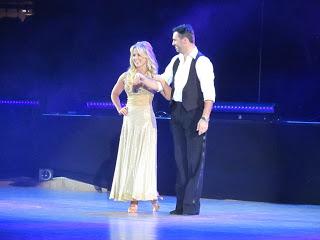 The disco era of the 70's was next, and Meryl Davis and Charlie White were the featured performers. I love their playfulness with the choreography, and it reminded me of the videos I saw of them from Art on Ice last winter. All of the skaters did a great job expressing the funky style of the Hustle.
The 80's was such a fun section, and the highlight for me was the Kerrs skating to "Take on Me" by A-Ha. There was a group number to "Addicted to Love" by Robert Plant, and Naomi and Todd skated to "True" by Spandau Ballet. Chelsie and Tony took to the stage during this section for a jive to "Wake Me Up Before You Go-Go" by Wham, which was a lot of fun.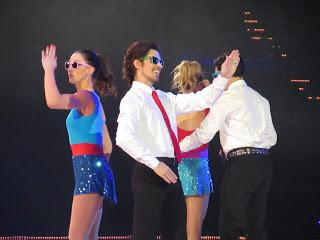 The Goo Goo Dolls ushered in the 90's with their hit "Slide" as a group of the skaters took to the ice. After this number, Anna Trebunskaya and Dmitry Chaplin danced to the first verse of "Iris," and then Meryl and Charlie took over on the ice for the remainder of the song. This was my favorite performance of the night with the incredible guitar work from the band combined with Meryl and Charlie's emotional power on the ice.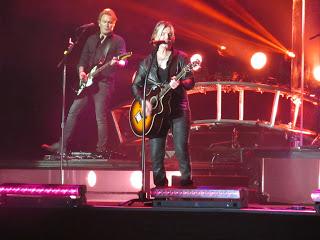 The 2000's began with a sexy cha cha from Chelsie and Tony to Lady Gaga's "Let's Dance" followed by a strong Paso Doble from Anna and Dmitry to "Firework" by Katy Perry. Most of the ice dance cast also participated in these numbers. The Goo Goo Dolls came back for the finale, which included the entire cast of skaters and dancers. I know I've omitted a few performances in here, but my memory is failing me at the moment! The show will be televised on Feb. 11 on ABC, and you don't want to miss it!
Here are all my photos from the show and the Meet and Greet! => PHOTOS