ShakeToUnlock is a tweak available on Cydia for free from the BigBoss repository. Obviously you need a jailbroken device to use this tweak, you can follow my iOS 5.0.1 untethered jailbreak using Redsn0w here.
This is a very useful tweak if sometimes you dont feel like typing your password in you can just shake it, or which ever way you configured it, to unlock. This is also updated to work with iOS 5.0.1.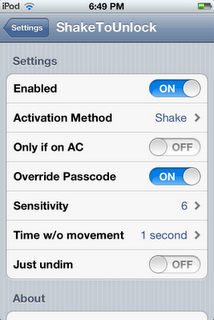 Features
Unlock device using shake gestures (one or two shakes, even directional shakes are supported).
Unlock all of the time – stays alive even when the screen turns off.
Has a low battery consumption
Override the passcode if you desire.
Undim the device without unlocking – this is particularly useful for users of LockInfo or IntelliScreenX.
5 settings for shake sensitivity.
An included toggle for SBSettings.