I noticed quite a few new Shakespeare adaptations that went far beyond the typical change of setting. After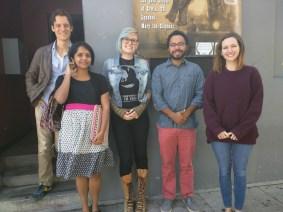 Their pose is way more refined than their conversation.
seeing even more pop up in this year's Hollywood Fringe Festival, I invited some artists to discuss the hows, whys and challenges of adapting The Bard.
Shakespeare Adaptations on Stage & Screen
Hosted by Cindy Marie Jenkins
A Pirate Podcast (down and dirty) as part of @SeeItorSkipItLA
Guests:
"The Hamlet Project' by Loose Canon Collective LA
Randolph Thompson & Paul Culuo
"Titus and Dronicus" by Better Than Shakespeare
Megan Kelly & Madhuri Shekar
"Two Girls, One Bard" by The Illyrian Players
Carly Weckstein
Sponsored by Theatre Asylum
Produced by Lemuel H. Thornton III