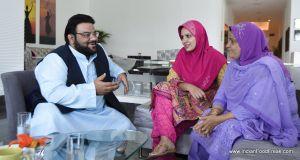 The first thing that strikes me as I walk into Latest Recipe restaurant of Le Meridien, Gurgaon for the Shahjahanabad Food Festival is how the tables have turned for Osama Jalali. Osama, who is a seasoned food critic/reviewer and has over 2,000 reviews in his kitty, not only loves to write about food but, as I discovered, cook it too. He has donned the chef's hat along with his mother Nazish Jalali and wife Nazia to revive the traditional Indian Recipes of Shahjahanabad, the old name of the walled city in Old Delhi.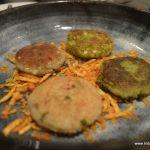 Most of the dishes like Kacche Keeme Ki Tikiya, Qeeme Ki Goli, Dalia Ka Shammi, Mewa Kebab, Saag Kofte, Urad Daal Gosht, Gobhi Gosht, Chane Ki Daal Ka Bharta, Tahiri, Qubooli, Gosht Ka Halwa, etc. presented at this food festival are not the run of the mill dishes and would be unavailable even in famous restaurants of Old Delhi. However, these are dishes made in homes in the area even today and are treasured recipes passed on from one generation to the next. Osama has been really lucky to have grown up eating these at some time or the other – festive times, family get togethers and other celebrations.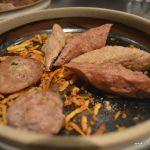 What surprised me was that Osama and his family has a fully vegetarian meal at least 3-4 times a week at home. I, like any other person, would have a preconceived notion that living in a house where your mom could weave such magic with non-veg dishes, this is what he would eat everyday. Also, if one is eating in a Mughlai restaurant anywhere, what strikes you is the limited choice in the vegetarian section which is definitely not the case here.
To be fortunate enough to eat food cooked by Osama's Ammi and to be served with so much love by him – what more can anyone ask for ?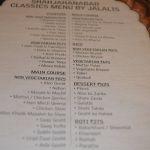 When mothers are scratching their heads trying to figure how to feed vegetables/greens to their kids, they can make the unheard of
French Beans Shammi Kebabs
. A vegetarian starter, the kebabs had a lovely creamy texture thanks to the rich hung curd and a distinctive beans flavor in it. The
Mewa Kebabs
made of spinach, carrots and cottage cheese were packed with all the vitamins one can think of. The
Kathal and Dalia Kebabs
were unique and equally tasty. The main thing was that all these dishes were like home cooked food – neither heavy on spices nor oily.
Kacche Keema Ki Tikiya, Mutton Seekh Kebab and Chicken Seekh Kebab were subtle kebabs with no obvious taste of meat softeners and no spices coming between you and the meats.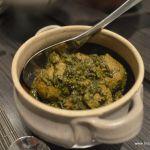 Arbi Masala Wali was in light yogurt based gravy. Chicken Saag Kofte were chicken mince balls in a spinach based thick gravy (the spinach was still a lovely green and had not been whisked in the blender. Thank God for that !)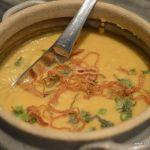 What I liked about the food was that each protein was handled with respect and simply shone in the dish. For instance, in the
Urad Daal Gosht
(incidentally, Osama's favorite), you can taste the lovely marriage between the daal and the mutton.
Chicken Stew
had a lingering slight sweetness coming from the caramelized onions.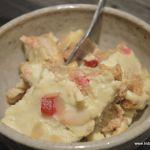 In desserts, I doubt if many can boast of having eaten an
Aloo ka Zarda
(grated potatoes cooked in a sugar syrup), the most amazing
Shahi Tukra
which was not fried or the astounding
Gulathi
. These three were the perfect encore to a great evening.
On discovering at the end of the meal that the dishes were cooked in ghee (clarified butter), I was more than taken aback because the meal does not sit heavy on your stomach. Neither is it loaded with unnecessary spices. It is light and tastes just like home food with a very subtle interplay of flavors.
I feel that in today's times, fortunate are those who still get to eat food cooked by their mothers. Add to that, if you are yourself a passionate foodie who enjoys cooking, the final result has got to be astounding.
Feel totally blessed to have had food cooked by Ammi Jalali !