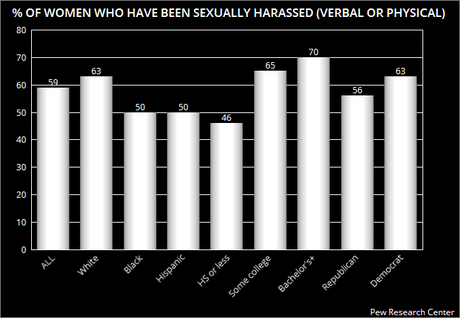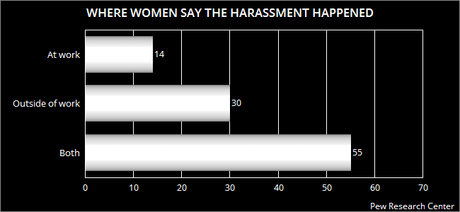 These charts reflect information contained in a recent Pew Research Center survey. They surveyed 3,184 women nationwide between February 26th and March 11th. That sample has a margin of error of 2.6 points.
It shows that a substantial majority of women in the U.S. say they have been sexually harassed either verbally or physically -- and that the harassment happens both in the workplace and outside of it. That's a shameful statistic, but I doubt it surprises very many people.
Most people know that sexual harassment is fairly commonplace in our society. In the past, they have either accepted it as normal in a patriarchal society, or have been afraid to do anything about it (afraid they would be punished instead of the offender).
It is my sincere hope (and belief) that this is now changing -- that the patriarchy is slowly dying, women are becoming more equal, and more people are now willing to expose the sexual harassers. But we are not there yet, and it is incumbent on all decent people to speak up when they see the harassment happening.