Any guesses as to what the very first thing I ever did in Amsterdam?
It wasn't the Anne Frank Museum, nor the Van Gough Museum.  It wasn't even the Red Light District, or even a tour of the canals which are celebrating their 400th birthday this year (although I did visit the latter three later in my trip). It was...
#1) ... visit the public library.
Yep the library. I soon learned that while Amsterdam is abundant with typical tourist attractions, it's also a great place to wander off the beaten path.  I'll confess that while I love libraries and am an avid reader, the library probably wouldn't have been my first choice of stops in Amsterdam had I been left to my own devices. But Machteld from Amsterdam Tourism assured me it was state of the art and she was right!  I especially liked the  views,  the children's area and these space-aged work stations: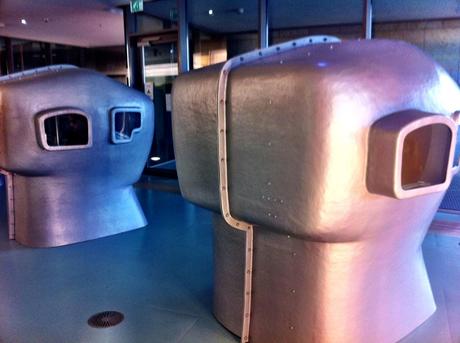 What surprised me even more was that the library was a happening place! Almost all of the seating was full and I could feel the energy.  I had no idea that the Dutch were so studious! There's even a large  cafe.  While I wouldn't put the library on my "must-see" list of places to visit in Amsterdam, it is a lovely building and makes for a nice refuge on a rainy day if you want to read with a view over the canals. It would also be a great place if you had kids, due to the various play stations found in the children's library.
Insider travel tip:  
Wifi is free for members or €1 for 30 minutes for non-members. The library is located 500m east from Central Station.
#2) Have dinner in a Shipping Container, aka Pllek: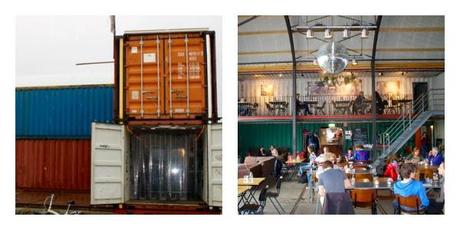 Pllek is a creative space situated in a shipping yard on City Beach in North.  All of the furniture is recycled and the walls are appropriately made from shipping containers. It doesn't look like much from the outside, but the inside has a relaxed vibe, delicious organic food with a large selection of vegetarian and raw entrees. The views across the canal are second to none and in nice weather there is a patio.  I really enjoyed my dinner at Pllek.  It was definitely a unique setting and I would love to go back. Pllek is located at TT Neveritaweg 59 | 1033 WB  Amsterdam.
#3) Felix Meritis and Observatory: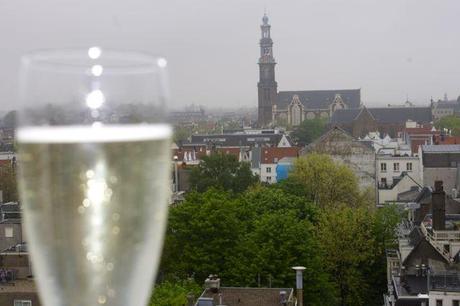 The Felix Meritis is the European Center for Arts and Science.  It's also home to the oldest astronomical observatory in the Netherlands, dating back to 1788.  Instead of looking at the sky you can look below and try to spot works like the unique art installation Amsterdam of Above – Amsterdam of Below by artist Joseph Semah. Not surprisingly the views from the observatory are some of the finest in Amsterdam. Daily tours of the observatory are available from April – October except on Sundays and costs €6.50.  Click here for further info.
#4)Lunch/Shop/Sleep at Droog.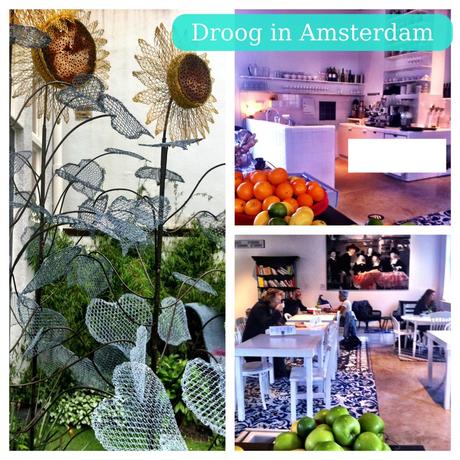 Droog is a really funky place.  From the storefront it appears to be a unique design store housing items you didn't even know you needed, but go to the back, up a few stairs and there's a really unique garden and cafe.  There's even a hotel!  Insider travel tip:  If you want to stay at the hotel, make reservations, the hotel is a one room hotel! Droog is centrally located at Staalstraat 7B 1011 JJ Amsterdam.
#5)Tour of the Noord/Zuidlijn Tunnel: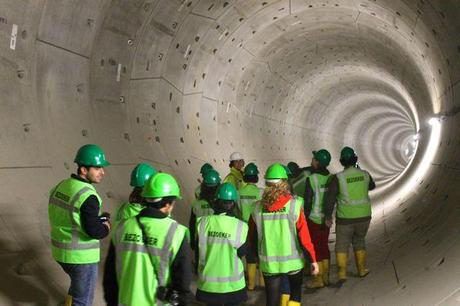 Ever wonder what a subway tunnel looks like?  Here's your chance to find out! My tour was in English, but the site is only in Dutch.  Tours are only offered at select times.  More info (in Dutch only) can be found here. Definitely a unique view of Amsterdam that most people don't get to see!
#6) Go to a Comedy Club:  I've lived in Germany for three years and still haven't been to a comedy club here.  I was in Amsterdam for 2 1/2 days and went to Boom Chicago.  I saw The 7 Deadly Dutch Sins and loved it! In addition to being really funny, it provides some insights into Dutch culture from an American perspective.  The 7 Deadly Dutch Sins is currently showing.  Check show times for schedule and book in advance.
#7 Stay at Hotel Casa 400.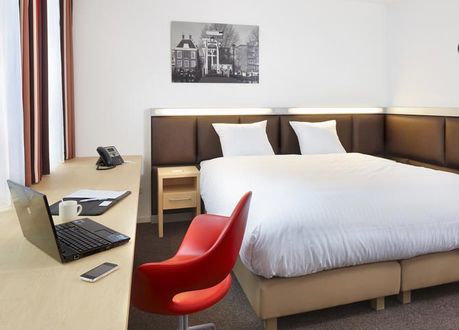 This hotel has a unique concept.  It's half hotel/half student dormitory, but the guests and students have separate areas so they don't interact.  I arrived back to the hotel late each night during my stay otherwise I would have been trying to sneak into the student area which houses a ping-pong and foosball table! Book your stay here.