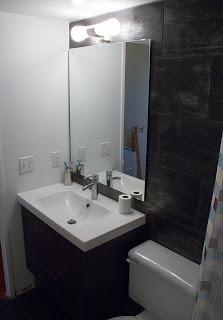 When you move into your new home, your main goal is going to be making it yours. Moving, especially moving overseas, can be traumatic and confusing because everything is so unfamiliar. To make up for this, you should strive to make your new house feel like home. Since you're going to have to use it almost immediately, the bathrooms should be your first focus.
Deep Cleaning
The very first thing you should is completely deep clean the bathroom if a professional cleaner hasn't done that already. Despite how nice and clean the bathroom may seem at first, you're bound to find things like dust, soap scum, and water spots if a deep cleaning hasn't been done. These things will make you feel the presence of the previous owner is haunting the house, preventing you from ever feeling truly at home.
New Toilet Seat
Chances are, you probably wish you could get rid of the entire toilet and completely replace it with a new one. However, you may not have the money to easily do so, and even if you do, it may not be the most sensible option for you.
Instead of ripping the entire toilet from the wall, purchase a nice, new toilet seat and replace the old one. While it probably won't be as satisfying as a completely new toilet, it'll probably be good enough.
Put Away Toiletries
Once the bathroom's completely clean, you should start officially settling into your new bathroom by first unpacking the toiletries, such as toothpaste, toothbrushes, shaving cream, cologne, deodorant, mouthwash, hair brushes, soap, lotion, toilet paper, and more. Put all these toiletries in the appropriate places and make sure you set them up in an orderly manner.
Sort Medicine Cabinets
With the toiletries completely taken care of, you should now focus on unpacking all your medicine and organizing your medicine cabinets. If your medicine cabinet seems to be lacking, consider going to the drug store and buying medicine to stock it up. Buy over-the-counter medicines like Tylenol pain relievers, fungal medicine, and cold and flu medicine.
Besides medicine, some other things you should keep in your medicine cabinet are adhesive bandages, nail clippers, filers, antiseptic, muscle cream, tweezers, sterile gauze, medical tape, dental floss, and a thermometer for checking for fevers.
Bathroom Decor
Once you have the main unpacking done, you can now focus on personal decor. Put up shower curtains, rugs, towels, mirrors, flowers, pictures in frames, and toilet seat covers. Instead of using the bathroom decor from your old home, consider purchasing new decor to start fresh in your new home.
When it comes to settling into your new bathroom, you may have no idea where to start. However, As you can see, making your bathroom yours doesn't have to be difficult, which is an especially good thing if you're still trying to cope with moving overseas and need something to remind you of home.
This post comes from Overseas Packers, the experts at assisting people moving overseas. If you're worried about how to get all of your stuff from country A to country B, leave it to them.