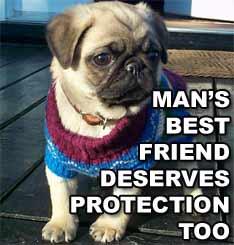 Whether you're confronted with a pet emergency or an unanticipated medical condition such as cancer or heart disease, dealing with the situation is often easier if you have pet insurance. If you haven't heart of pet insurance, start doing your homework, because it's one of the best insurance deals you'll ever get. For whatever reason, only about 1% of pet owners carry pet health insurance, so it appears to be one of the best-kept secrets in pet health care. But now's the time for you to be in on the "secret."
Check out The Rise of Demand for Pet Insurance

The premiums are minuscule by human health care standards, nobody dictates which veterinarian you need to see, and most specialists and emergency facilities are also covered. There are many different insurance companies and policies out there, and it's important to understand what is covered and what isn't. It's also important to get your policy as soon as possible, before your dog gets sick and develops a pre-existing condition, which can be excluded from coverage.
If you won purebred, it's also important to understand which heritable condition (ex. hip dysplasia) might be excluded from coverage. When the unforeseen happens, insurance can provide you with peace of mind so you can make decisions without unduly focusing on your current financial situation.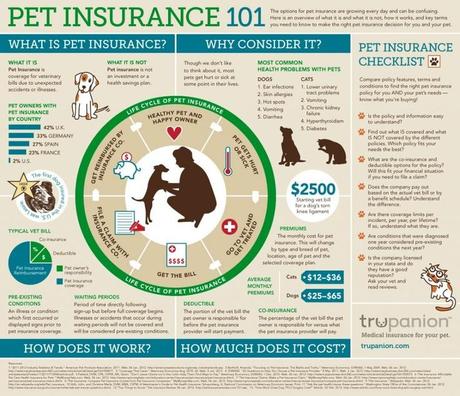 Pet Insurance 101 *
So how do you find and choose an insurance plan? The best part of getting pet insurance is that you rarely have to deal with an insurance agent, and nobody is going to give you a sales pitch. Most of the policies can be ordered by mail, by telephone, or on the internet. Veterinarians don't sell the policies directly, but most have forms in their offices and can help pet owners select a policy that would be best for their circumstances.
Be prepared to review what each plan offers, because not all policies are alike, and not all companies usually sell insurance. Some are buyer's clubs that offer discounts on services, while others are full insurance companies, registered with insurance regulators in every state or province in which they sell policies.
Do yourself and your canine buddy a real favor and buy pet insurance now, without delay. It's the best bargain you will ever find in canine health care, and it is well worth the small amount of expense involved. In fact, if you're an employee at a large company, you might want to inquire as to where pet health insurance is covered in your benefits. According to studies, pet insurance is the most requested corporate benefit after health and dental insurance. It never hurts to ask, but do it now. If you wait until your dog has medical problem before you consider health insurance, you are already too late to take advantage of most of the benefits of coverage.
Is a Pet Insurance Policy Right for You?
Make sure the pet health company is licensed with your state's insurance department. Reputable companies must receive good-performance audits.
Study what the policy covers and how much it pays for various treatments. Some plans allow each veterinary clinic to establish its own fee structure. Others have set amounts they'll pay, and these may differ from what your veterinarian charges.
Ask about the plan's annual deductibles, which you must pay out of pocket.
Read the fine print. Some policies exclude certain medical conditions.
Contact your veterinarian to make sure that you s/he accepts pet insurance policies. And make sure that the policy will accept bills from veterinarians.
See if the policy provides preventive care package.
Find out the timeline for claim payments.
* image credit