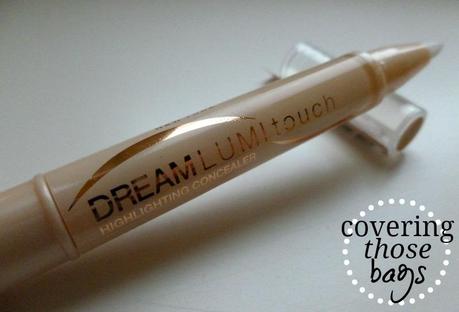 Maybelline Dream Lumi Touch Highlighting Concealer
I have eye bags. Big, saggy bags. Gross yes, but over-exaggerating I am not! Unfortunately I was blessed (cough) with extremely thin skin around my eyes, meaning that not only so I get dark circles, but I also have quite visable veins around my eyes too. This is something I am super self-conscious about, and perhaps the one thing I would want to do something about. That is a whole new topic for another post however! 
I am on the life-long mission to find the perfect under-eye concealer. Now, the puffiness I have grown to deal with as something really hard to do anything about. But the dark circles, discolouration and paper-like skin is something I have been able to disguise... a little. Over the past year I've been using the Collection (2000) Lasting Perfection Concealer in their lightest shade, which has a really thick formula and covers my dark circles really well. That was until Kat recommended this alternative - Maybelline's Dream Lumi Touch Highlighting Concealer, which costs £6.99. I was drawn to the fact this is a highlighting formula, hopefully directing light and attention away from my saggy bags (sorry, I can't stop). 
Now Kat gives a much better review than I probably could (she is a MUA afterall!) so I recommend you check that out, as she's been using it a little longer than I have. So far, I think this is fab - nice thick consistency like the Collection one which gives great coverage. The fact that it highlights is a bonus on the Collection concealer, as is much more suited to dark circles. 
So far, so good! Have you tried the Maybelline Lumi Touch? 
Oh, and happy valentines day folks... may your day be filled with love, chocolate and overpriced food! We've got an M&S dine in for two meal in the fridge (which actually wasn't overpriced at all, a complete bargain at £20!) - Coquilles St Jacques to star
t, Rump Steak with Peppercorn sauce with chips on the side, Hot Belgian Chocolate Souffles for pud, washed down with some Rosado Cava. Can't wait!