Not too long ago, I tried a Sesame Walnut Paste Sweet Soup 芝麻合桃糊 and so today, I shall attempt Sesame Paste Sweet Soup 芝麻糊 (2).
Recently, hub went for his body check up and found that he has high cholesterol.  So I am in the quest for identifying all food that can lower his cholesterol.
One of them is sesame seeds.  It rank highest in cholesterol-lowering phytosterols of nearly all nuts, seeds, legumes and grains.
It also helps to balance the hormones which now I am experiencing the imbalance.
With age comes greying hair and sesame seed oil stimulates hair growth by nourishing, conditioning, and promoting a healthy scalp. The regular massage with warm sesame oil penetrates your scalp, thus increasing the blood circulation.
By the way, get the one that is not toasted for this usage.  This oil was introduced to me by a doctor who does massage for my girl when she was experiencing back pain when she was young.
So from now on, sesame will be part of our diet.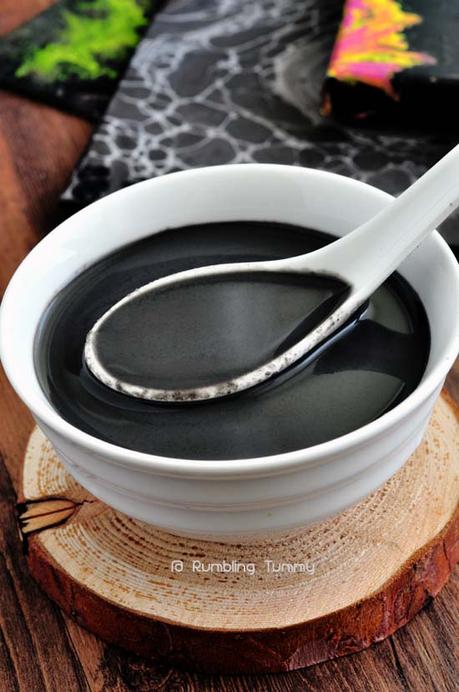 Findings: This is a really nice recipe.  The creme turned out really well and tasty.
A friend who tried making it also gave a thumb's up for this.
Definitely a recipe keeper!


Source



What you need:
550g water
10g white sesame seeds, toasted
40g black sesame seeds, toasted
50g cooked rice
30g cashew nuts, toasted
40g sugar
Method:
Rinse black and white sesame seeds, and in an oil free wok, toasted the sesame seeds until the white sesame turn light brown.  Remove.
Combine sesame seeds, water, cooked rice, cashew nuts and sugar.  Puree 2 min/Sp10.
Add in water and let it boil for 7 min/100

°C/Sp 1.




Blitz for 2 mins/sp 10.

Serve hot or chilled

Enjoy!

If you have enjoyed this post by
Rumbling Tummy
, be sure to follow her on
Facebook
, Instagram,
Pinterest
, Twitter and
Google+
.