I wished for a change of scenery, a new vista to help me getaway from those everyday blues! Whitby came through for me, serving me those seaside treats in abundance! Helping me create some space between the West Midlands for the day, those harbour-side bites and drinks had me feeling thankfully nourished. Yes, ice cream tastes better when you're by the sea! Thanks, Whit!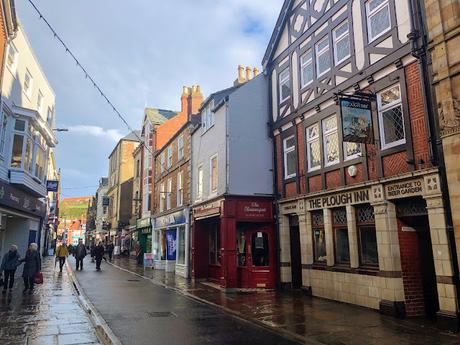 Feeling less than impressed with the worse than torrential downpour as I stepped down from the 'Majestic' coach I had taken from Bilston, West Midlands. Those showers beside the North East coast of England did not do nothing to impress me, queue some much needed liquid relief! Samuel Smith's 'The Plough Inn' pub had me covered, stepping in feeling that the day in Whitby would turn out to be an actual wash out, that pint of Cider reserve had a plan for me! Paying my money, I took to my seat near the bar with an interesting earful of Northern charm as the punters made the best of the 'Digital Detox'. The brewery had banned all forms of technology to recapture the essence of conversation without people being anti-sociably distracted by their Facebook status. I, for one wanted to know the weather but after a few sips or gulps of my pint of Sam Smith's Cider reserve it was game over! Me and my Mom had an important toast to make! She and my late Step-Dad had managed a Samuel Smith pub but in London, a toast was made! 

Having enough things to talk about, our time spent at 'The Plough Inn' in Whitby had us talking about the time they had spent down in London. It was quite nice to see the same Samuel Smith's logo and the recognisable own branded labels at the bar's pumps and optics. Enjoying my pint of cider with much love, before I knew it I had finished the lot, when I drink I don't mess about! Maybe I'm scared someone might steal my drink before I have had time to finish it? Yes, that was my case! During that day we visited another Samuel Smith pub in Whitby, after climbing down from the 'Whalebone Arch' we found the 'Jolly Sailors Inn', we had another drink in that second Samuel Smith pub. During that second drinks stop we overheard a very interesting conversation that was occurring nearby between a group of people who were dressed up for the 'Goth' weekend whilst the odd one out dressed in everyday attire tried his best to make a non-journalistic case without him trying to much. We were being served Goth Realness in Whitby!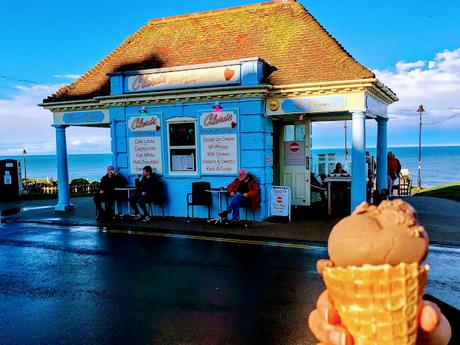 Making tracks, we left 'The Plough Inn' behind us, if truth be told we did notice from our pub seats that the windows presented a brighter picture. Would that be the case once we ventured back out onto Baxtergate? By the grace of a higher power the sky presented a lovely blue appearance, that treacherous rainstorm had ceased before our very eyes! Were we dreaming? No, that sunshine miracle told no lies! Walking up Skinner St, my Mum introduced 'Botham's Of Whitby' to me as one of the best places to buy a sweet treat in the town, unfortunately that Sunday it stood closed and in darkness. I lived for the period features, Whitby had its own 'real groove!' Was that the sea? Yes, I could see that ocean blue in the near distance as we proceeded closer to the waters edge. Ice Cream? Now, a double scoop chocolate ice cream delight served in a waffle cone wasn't on my radar until I saw Clara's bang in front of me! I had no reason to refuse that offer, sure ice cream hits different beside the sea! Ice cream, I just want to get to you! 
I had majorly fallen out with life, the UK thought I was going crazy being stuck within this border since no secured return to China has been announced. Like love at first at sight, Clara's had me in mind for some chocolate confection ice cream perfection! In and out before I could even think about my choice, I found myself with a double chocolate scoop in a waffle cone! Walking near the Western Terrace with my delicious ice cream treat had me in seaside ecstasy, nobody could tell me otherwise! When everyday seems like the same, I had been feeling every shade of grey, trusting that 'Majestic' coach to take me away for the day to experience some seaside magic! Whitby's newfound sunshine told the rain where to go, with my Clara bought ice cream treat the only clouds in the sky were of the white and fluffy kind! Whitby, I will forgive and forget because those sweet offerings left me wanting more! Walking along Western Terrace saw us getting closer to another vantage point, pardon me that's another story, alright! OK, Wh?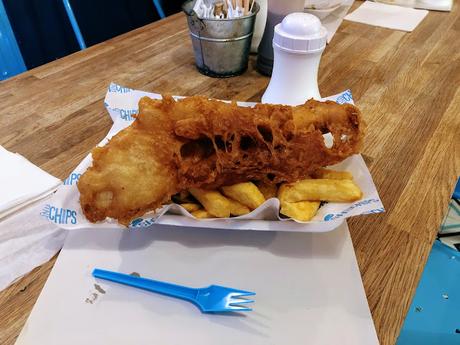 Whitby, what would we have to do to find reasonably priced fish 'n' chips? Those sky high tourist prices would be my alibi! The shade of it all! Trusting my tourist radar, I suggested to my Mum for us to cross the Whitby Bridge away from Whitby Abbey's direction because Hadley's prices were through the roof! Walking away from the droves of tourists, the same path along Baxtergate had me stopping in my tracks when I saw Angel Fisheries from the corner of my eye. Call it intuition, I had noticed a certain fishing trawler in the water that was located next to our second watering hole of the day, the Jolly Sailor Inn. That 'Our Lass III' happened to be that boat, the same vessel that was wrote upon a board inside the compact interior of Angel Fisheries. I knew it! Whitby, don't you just love me? No, you do! Doing anything to find a portion of fish 'n' chips for less than £10.00, Angel Fisheries served us at £8.00 per portion! Of course, Angel Fisheries along Angel Yard was definitely our supernova! Whitby knew time wasn't on our side! 
Protecting my energy, that portion of fish 'n' chips at Angel Fisheries had me focussed and ready! How did it taste? Please, that is not even a worthy question! Inhaling that delicious moment, that portion of loveliness was consumed with much satisfaction! Angel Fisheries served us the best for a cut price, the crisp of the fish was just enough, nothing was overly greasy, balancing the perfect chip shop taste! Whitby's epic day presented many seaside treats, it was like a series of successful taste tests after each other! Those three pints of Samuel Smith's Cider reserve had my mood in check, the first one had the desired effect because that downpour had me feeling testy! Clara's ice cream serving had me appreciating that waffle cone double chocolate scoop moment! In the final moments of that Whitby seaside day of treats, the food served at Angel Fisheries left me wanting more of that deliciousness! Making it back to that 'Majestic' West Midlands bound coach, no I didn't want to leave! Whitby, you are delicious to me! I'm full!
Seaside Treats... DONE! 
Joseph Harrison