Three blogs in one day? Yes, Paris saw me making some serious moves during that premier day of exploration in the French capital! Paris's Metro almost had me messed up, trading the tracks for the streets, I had my next destination locked down regardless! 'Jardin du Luxembourg' had me speechless in the best way! Paris's 'Latin Quarter' served it up, real fancy and not tasteless!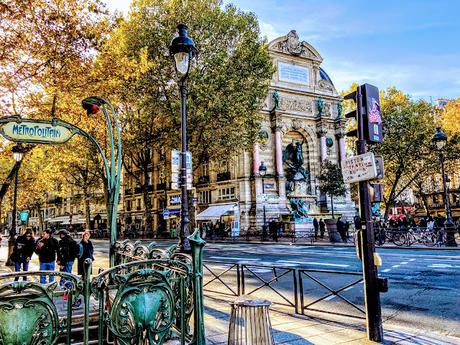 Standing in-between two Paris arrondissments, five and six to be exact! I wanted to squeeze every single drop of culture and history from that first official day, nothing would get in my way! 'Place Saint-Michel' pleased me with that 1860 fountain standing in front of me, did I hear a 'Napoleon' reference? Yes, I did clock that elaborately designed 'fontaine' with a sense of 'French Second Empire' represented! Snapping my fingers with appreciation for that buzzing french junction, I noticed people were dancing opposite the fountain to some French sounding Afro-beat music! I adored that slice of culture, Paris wasn't holding anything back during that afternoon moment in France. I didn't take too much notice of the fountain because frankly I wanted soak up the entire hype of life that popped off around me. As I neared my twelfth hour awake after that 02:30 A.M wake up call, I forged on because there was no way tiredness would win! Paris's Latin Quarter didn't need to ask, I was there to discover what I could before sunset! 
The famous 'Metropolitan' metro sign became part of that Latin Quarter scenario, without me realising it, that signage photo was the only one I would take throughout the trip! How mad was I? I know! Paris had me jumping from one historical and cultural wonder to the next within a quick second, it was mad to have my back to the Seine River with the Notre Dame in equally close proximity. Serving up exactly what I had imagined in my head, I headed away from that famous 'fountaine' to the left hand side along 'Boulevard Saint-Michel' with my next landmark in mind. Little did I know that 'Boulevard' would help me out in many ways, 'Monoprix' had my back! I didn't have access to a USB charging point in my hostel bunk so with some quick thinking I was able to buy a French USB plug with ease at Monoprix. Parched with all of that walking, I had those bottles of 'Orangina' purchased without question! Hands down, the Latin Quarter helped me out but most all served with that Saint-Michel intersection. Je savais juste!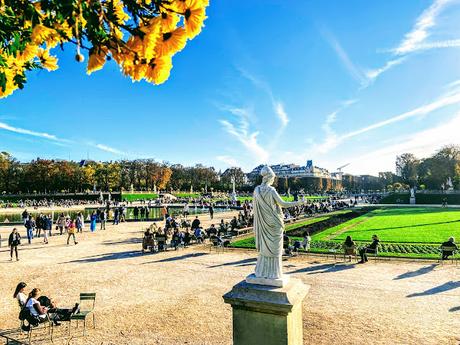 I could already sense that my 'Destination' pursuit the next day would take me on an already jammed packed route around some of Paris's top landmarks, I chose to break away from the Latin Quarter to see something park-like. Situated on the edge of 'Saint-Germain-des-Prés' and the Latin Quarter, I found myself walking into Paris's palatial looking 'Jardin du Luxembourg'. That astonishingly fancy looking park gave me all the feels, serving a royal vibe it was not a surprise that I have now discovered such a garden was commissioned by a queen like 'Queen Marie de Medici' in 1612. Covering a fair distance, I kept things manageable by soaking up my view of the gardens from the comfort of a lazy chair. People were soaking up the sun during that Saturday vibe like never before, if you can't beat them, join them! Relaxing for a little bit sounded like a great idea, I had clocked up some serious steps and hadn't even checked into my hostel at that point! Luxembourg Gardens served 'Royal Park Realness' for sure! I just loved it! 
Like I mentioned before, France had policed hard during their lockdown period in Paris especially. With not a single restriction in place, it was so refreshing to see the gardens full of excitable visitors, for once I celebrated that sense of liberty. There was something so 'European' about the whole scene, I think that we are really backwards in the U.K because we wouldn't be able to behave like those Parisians did that Saturday. I am calling shade on my own nation and I have no reservations to make! Making my way out of the 'Jardin du Luxembourg' allowed me to see a view that was so effortlessly beautiful, I need to dedicate a whole sentence to it! Maybe more! 'La Fontaine Médicis' almost made me lose my senses, set along a long piece of water, those draped flowers and foliage more than impressed me much! I will include the photo of that fountain in a future Paris blog, now isn't time but when it's right then it will be right. A sight to remember for life? Yes, I do think! Checking out of that part of town, at last I could check-in!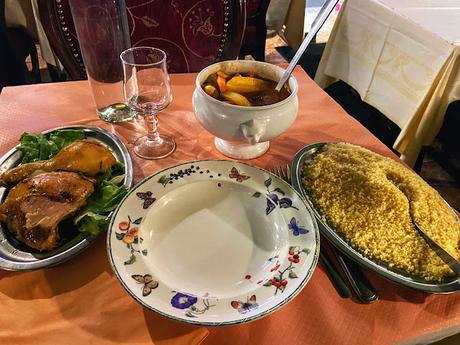 That lovely Charcuterie lunch had been a few hours previous, the evening had arrived and I wanted to muster the last of my energy for the day before I would finally crash. Leaving my hostel in 'Le Marais', I ditched public transport because the Metro had took me around the houses after I had changed at 'Châtelet–Les Halles'. Walking behind the Notre Dame had to be done, I half wanted to have a 'Crêpe' but I refrained from that sweet treat because I needed something substantial to eat. Back in the Latin Quarter, I found myself surrounded by a myriad of lively streets serving many restaurants that were all vying for customers. I chose 'Rue Xavier Privas' where I found my slice of Moroccan cuisine at 'Nouveau Village', the tiredness won because I was an easy target for the lady who was touting potential customers. I wasn't mad, I had wanted from the very start to sample some food from the 'Francophone' in the Latin Quarter. Miss Morocco, I did just that! Was I about to order enough food for two people? Yes, F! 
Choosing the 'Couscous poulet' was the one for me, I enjoyed a glass of mint tea whilst my meal was prepared with no issue. The restaurant itself felt super cosy, I knew that I would be eating my food, paying the 'L'addition' to then finally make tracks back to my hostel pod. I did my absolute best to finish the food, actually I did a sterling job because it all tasted really good. Everything was cooked well and what can I say, there were no complaints regarding the portion size! I loved the Latin Quarter, literally I loved everything about it and to publish another foreign based addition of 'Serving It Up' has completed my year with a smile! Place Saint-Michel served me 'dancing in the street' with 1860 Realness to boot! Those nearby gardens gave me the chance to rest my feet within a knock-out stunning setting! Sure, that Moroccan connection tasted great and set me up for a solid nights sleep for certain. Paris wasn't disappointing me, that was just the first of five days, I had picked the right city to visit! 30,332 steps walked, I needed sleep! Oh!
Latin Quarter, Who? I Don't Know Her! 
Desperately Seeking Adventure