Speaking for myself, my trip to Manchester would need to serve up some tasty Chinese/Cantonese food! The local takeaway's in my area really haven't impressed my tastebuds since I have been back from China, I said what I said! Not to sound twisted or busted, Manchester's Chinatown had many culinary delights to show me! Would it feel like home? 吃饭!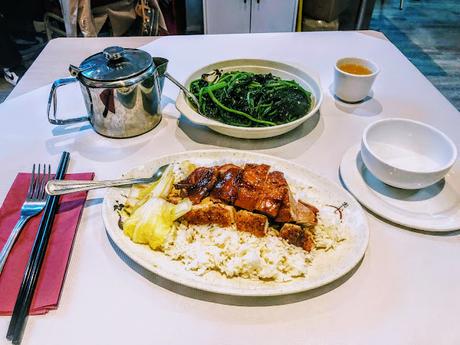 Happy Seasons, Manchester wasn't playing! Clocking this Chinese/Cantonese eatery on Instagram before my November 2021 visit to Manchester commenced, I was ready! Telling the truth, deep down I'd be impressed! When the sun went down on my Chung Ying food experience in Birmingham, I put to bed those cravings for the food that reminded me of my life in China and trip to Hong Kong. Making my order at Happy Seasons was no problem at all, I already knew what I wanted and you could have asked me weeks before that weekend because my mind had been made up! I ordered the 'three roasted meats' that was served with 'rice' and also a serving of 'Chinese Spinach cooked in garlic'. The meats looked great, all hanging in the window that had been another mouthwatering find on Happy Seasons own Insta page! And to drink? Going for a pot of good old '中国茶' because it is true that 我好想中国! Soaking up those Mandarin and Cantonese conversations, now that was another treat entirely! 是, 我喜欢中国菜! 
Once my food had arrived, of course I was feeling all clever with those chopsticks within close proximity. I tend to have days when I can use chopsticks fine and then other days when its like I'm back in that Shanghai 2015 moment eating with them for the very first time! With all this time spent in England due to a certain derailment of my plans due to the ongoing Pandemic, I haven't been able to eat with chopsticks all that much. Anyway, cut to the good bit! Yes, my food arrived and to my amazement it tasted just as good, my expectations were high because good Chinese/Cantonese food has been a chore to find within the United Kingdom. The 'three roasted meats' tasted wonderful, cooked to perfection I loved the taste the 'Chinese spinach' added to the dish. In that moment with those nearby conversations I sure found my happy place! I am sure that China won't keep me away from its Mainland for much longer but in the meantime it is all about those food experiences at Manchester's Happy Seasons. 曼城, 你的食物很好吃! 好吧? Yes!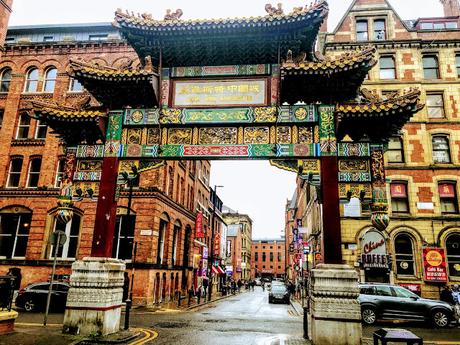 As this period of estrangement continues, being within any of the UK's Chinatown spaces definitely gives me life! Without realising it, during my 2014 visit to Manchester I had stumbled upon its perfectly formed Chinatown area. That first-time visit caught me by surprise and if truth be told I just had my dinner/tea there, nothing more because of the time and that visit just being an overnight thing. Queue 2021, I made Chinatown one of my first port of calls during my first day in Manchester during November 2021. After dropping my bag at my hotel I made my way closer to Faulkner Street, all I wanted was to catch a full-view glimpse of the arch. It was definitely a comfort to see such Chinese writing once again, during my time in China those characters became part of my daily life but with life not in the right place in the world, a Chinatown makes my world feel normal again. 非常感谢曼城唐人街! Others might not get it, that's not my issue to pay any mind towards. Did someone mention bubble tea? That's a mood! 
Sure, I would be able to fulfill my bubble tea request but I needed to walk off that meal from Happy Seasons! 曼彻斯特 might not mean anything to those who can't read Chinese but that November 2021 weekend wasn't the the first time for me to see those four Simplified Chinese characters. When I flew from Hong Kong International Airport to Manchester Airport in August 2018 I saw those once foreign characters spelling Manchester. Fast forward to that 2021 moment I was able to know instantly those Chinese characters spelt the city that I had traveled to for my birthday. Some of the street names showcased two names, one in Chinese and the other in English. Nicholas Street translated into a more direct translation, in Chinese there's no such name Nicholas so '尼古拉斯街' probably didn't register with those non-Chinese reading or speaking folks. I took great pleasure being able to read 'Ni Gu La Si Jie' even if nobody else had done before. Without a doubt my visit to Manchester's Chinatown had restored my powers! 是!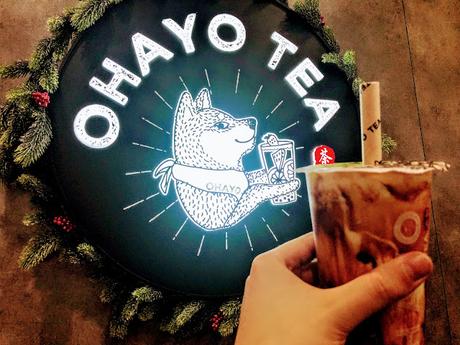 My bubble tea fix needed to be seen to, my West Midlands hometown has no idea what this sweet milk tea drink is! Getting away from that negativity because who really needs that in their lives? I certainly do not! Ohayo Tea had been one of the places I had found online before taking the train up to Manchester, England. Nearing the end of my Chinatown experience in Manchester, it was only right to get that China craving sorted! Ordering a medium/large milk tea with brown sugar syrup had to be done! I didn't need nobody to tell me how good it tasted because that bubble tea moment was for me to enjoy! Real talk, how has life gone to me having bubble tea as a rare treat, to when I was in China it would something that I would have on a weekly basis! Now, that's some state of emergency! Sipping on that bubble tea drink had me feeling centred, those sweet tapioca bubbles had not been in my life since April 2021! That's a straight up crime! I then made my way closer to Piccadilly Gardens with a satisfied stomach, M! 
Fast forward to the following Monday morning, as I was en-route to Manchester Piccadilly to catch my train, my suspicions were confirmed. I had rightly seen that 'Morning Cafe' served '油条!' Allow to me explain for those who haven't been to Hong Kong or the China Mainland because '油条' is like a breakfast 'doughnut', which is very popular indeed! Stopping by 'Morning Cafe' was the right decision, ordering a bowl of warm 'mushroom Congee' with a side of those mentioned 'Chinese doughnuts'. Instead of coffee, I chose to have a warm cup of '豆漿'. '豆漿' means 'soy milk' in Chinese. That breakfast moment took me back to both Hong Kong and the China Mainland, the 'congee' reminded me of my 2016 HK breakfast and also when I flew with Cathay Pacific from HKG to Beijing in 2018. The 'You Tiao' reminded me of many days spent in China when I would eat that deep fried doughnut for breakfast in the Mainland. All in all, what was served made me feel much closer to China and that how much it felt like home. 感感谢, MC! 
中国,我回来了!
Joseph Harrison