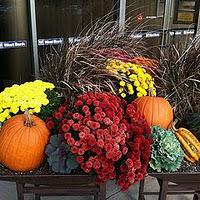 This Thanksgiving, with the discouraging job market, home values and stock market, many famillies continue to struggle financially. As long as the economic situation doesn't get better, stress will remain prevalent. And if you focus mainly on what makes you upset, negative feelings will flourish.
Photo by lindyi on Flickr.com
The next time you're angry or feel bad about your circumstances, practice changing your focus to gratitude. Did you know that it's impossible to have incompatible feelings at the same time? Try it. You'll find that you can't be both upset and grateful simultaneously. And shifting to gratitude elevates your body and spirit. Your mind and heart can't help but follow.
Sometimes thinking about gratitude can prompt you to feel more of it. In fact, when you're conscious of appreciation, you can develop greater awareness of your blessings. Remember that Thanksgiving is really about giving thanks. Try to let that be the main dish at your table this year.
We know you're busy right now, preparing for the holiday. But when you have a few minutes over this long weekend, why don't you scroll back to Monday's blog post and read the comments from those who sent us their gratitude lists? And we want to thank you, dear readers - your presence here motivates and inspires us! Here's our gift for your loyalty - download and enjoy our eBooks about how to reach your goals and how to deal with stress in a financial storm.