Keywords are something that governs the outreach of any website on the internet today. Be it an online store, business, educational website, personal blog, NEWS website or more, keywords are used everywhere to anything that is posted on the internet to allow viewers, readers, and customers to search and reach them.
It is a way to narrow the search result of a particular niche so that you can target the right section of the audience who you think can benefit from your services.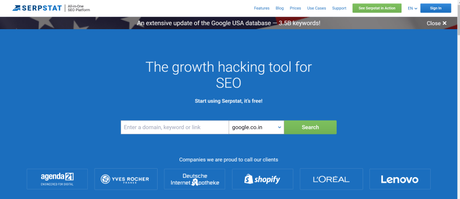 Why are keywords important?
Just like Hashtags, keywords are added to posts, articles, and uploads on websites that are meant to target a specific section of the audience. The idea behind adding the right keywords is that people surfing the web know exactly what they are looking for and will search some generic, yet specific keywords and terms to obtain relevant search results that suffice their purpose.
Thus, utilizing the right keywords while promoting your products/services will ensure that you get searched and reached more often, eventually boosting your SEO rankings.
Since Keywords are such an important tool in the internet world, especially in terms of SEO, the keywords database of many major Keyword research and SEO platforms on search engines like Google, Yahoo and Bing are updated on a regular basis to ensure internet users get what they are looking for!
Serpstat Has 3.5B Keywords In Google USA Database Comparison With SEMrush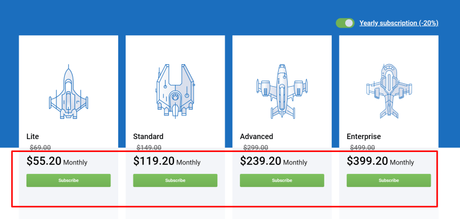 Use coupon Code : BloggersIdeas
It's a 10% discount for all Plans from 3 months.
There are many leading platforms in the market today that offer powerful and advance SEO services to users, including keyword research and analysis. One such popular and leading SEO and keyword research platform out there is Serpstat!
Founded as a keyword research instrument in 2013, Serpstat has since grown and improved. An in-house software has become an autonomous product on its manner to becoming a worldwide leader. Serpstat became an all-in-one SEO platform in August 2016 and now provides five key instruments used by experienced digital marketers around the world.
Rise through the ranks!
In a recent article on their blog, Serpstat revealed that their Google USA database was recently updated to 3.5 billion keywords in search, thus making their database the biggest available on the market at present! The database of Serpstat has grown rapidly since its creation in 2013 and is one of the best solutions today for working with keywords in the US Google database.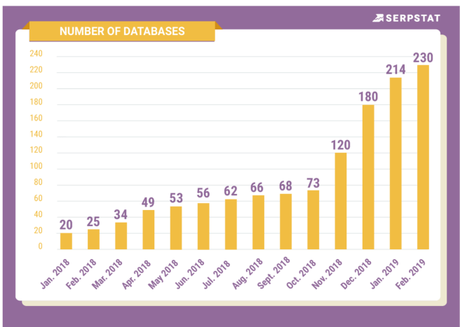 With more than 95,000 active users, over 100 million keywords in the database, and 15,000 keywords updated every minute, Serpstat is rapidly growing in the SEO market against leading keyword research tools and arch-rivals like SEMrush and more! Currently, Serpstat boasts of a mammoth 10 TB+ of disk space used for storing data with over 5 million requests
processed every month.
Serpstat now has 230 Google databases from around the globe that cover search queries and SERPs. Everything Serpstat has for qualitative keyword research and competitive analysis, no matter which nation you need information for.
Serpstat vs. SEMrush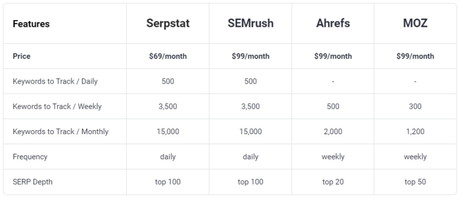 To avoid making empty claims that our database is the largest, I compared the Serpstat data with the information available from another tool. I decided as a benchmark the major SEO tool SEMrush.
I identified 6 niches and removed 10 keywords and 10 applications in the niche:
I selected 2 points for analyzing the cloud:
1) Number of keywords for a search query and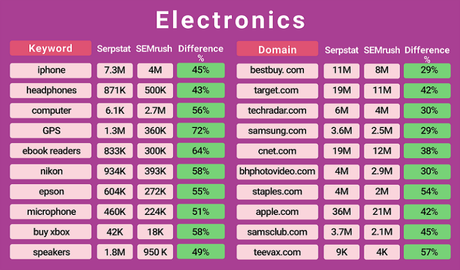 This in-depth assessment demonstrates that for most keywords and subjects, both keywords and fields, Serpstat offers more extensive information. Contact our account executives to generate a custom scheme if you have special needs for one or more modules.
2) Number of keywords for a domain.
Overview
We use two keyword indices. The bigger one is used to evaluate the query outcomes. The narrower one shows statistics for which fields are rated on query queries. Let's see first of all, how we altered the number of keywords:
More keywords
Now you will discover more keywords for gathering and storing semantics for your location in Serpstat! I gathered and reviewed 10 famous query queries through the Serpstat database. Just look at the stats! Our base is getting larger, and you can check it out on your own.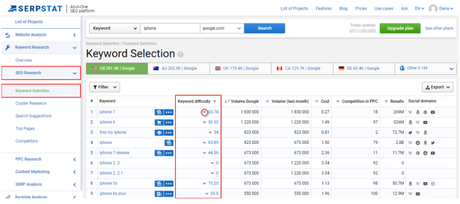 Follow the connections below in the document and see how big our service's keyword database is:
More domain keywords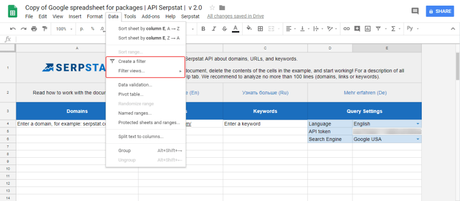 Domain-by-domain keyword database has also grown. Competitor analysis has now become even easier, and you can even more effectively monitor your site's situation. I compared the number of keywords in 10 common sites before and after our update.
You can see Serpstat's keyword database for these fields. Just follow the following connections:
You can always check the Statistics page to get access to the total number of keywords for each database.
USA database timeline
We searched through the records and gathered the background of our updates to see how we created and extended our U.S. database. This is a timetable for you to evaluate our job: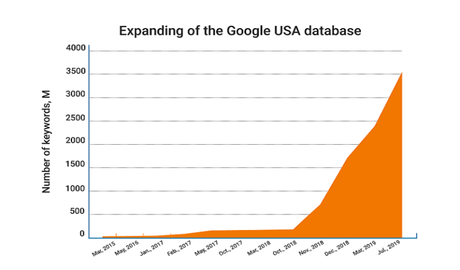 Keyword selection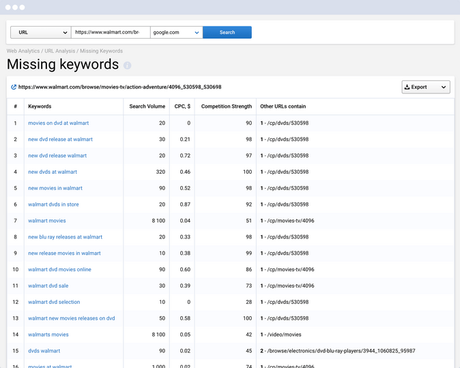 Our entire database is updated on a regular basis. First, we're looking in different sources for keywords. Then we search for rubbish to delete sentences with a frequency near-zero or equivalent to zero, in other words, keywords of rubbish. Then we add to our database the remaining keywords.
What are rubbish keywords?
What are outdated keywords?
As the term clearly suggests, these are keywords that are in the database but are no longer relevant. Therefore, the base is regularly rechecked for rubbish. We do our utmost to guarantee that our customers obtain the full information for all databases and take the requirements of the entire crowd into consideration.
As a result, the most popular databases are being substantially updated, including the U.S. database, currently the largest Google database available with 2.4 billion keywords and 160 million domain query conditions.
You may also like:
Conclusion: Serpstat Has 3.5B Keywords In Google USA Database Comparison With SEMrush
SEMRush and are such kinds of tools that every SEO and PPC specialist should be using. They will be perfect for keyword ideas, but SEMRush lacks backlink reporting. If you need a tool especially for backlink research, I would advise you Serpstator of course Ahrefs. When it comes to price, is an undoubted winner. You can get as much as you get with SEMrush for less money.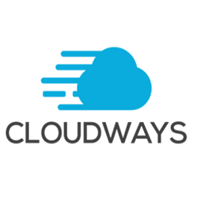 Keywords exceeding 100 characters
Keywords with an unnatural set of letters or words
Keywords with incorrect characters
Double words
Low volume keywords
Incomplete meaning queries
Artificially increased volume keywords