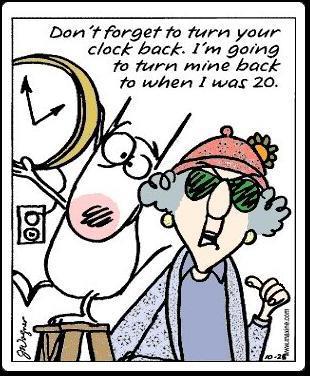 That first week... after the end of our blessed daylight savings time... When darkness kicks in around 4 p.m. When it feels exceptionally cold and miserable ~ even when it's not.. Well, that's the hardest time of the year for me to watch what I eat.
I stop gardening. I stop riding horses. You couldn't pay me enough to go for a hike. And, yes, I do drive to the post office. And, it's only a mile away.
I stop moving. And, begin to blimp.
I desperately
need
want heavy foods and cozy casseroles
and why not add a whole stick of butter?
Fat tastes good. And, it makes me happy! Right up until I hoist myself into last year's ski pants.
This recipe evolved out of necessity ~
1) Real beef stroganoff is so high in fat I had to kick it off the menu. Permanently.
2) I'd be lost without an oven. I rarely, if ever, have the time to monitor a stove top recipe.
The Path of Least Resistance ~
* 'Low Fat' is a very bad word in this household. Therefore, I never utter it out loud. No Yolk noodles are lower in fat, as is the soup. So far, nobody at the dinner table has figured this out.
Low Fat Beef Stroganoff Casserole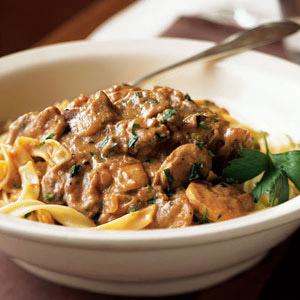 It doesn't look nearly this pretty when I make it.
1 lb. beef chuck roast cut into bite-size pieces.
1 bunch, chopped green onions, tops and all.
1 container sliced Baby Bella mushrooms.
3 cloves chopped garlic. Or, 2 tsp. roasted garlic that comes in the glass jars.
1 can fat-free cream of mushroom soup + water.
3 tbs. Worcestershire sauce.
1/2 package No Yolk pasta noodles.
In a non-stick pan, with cooking spray, stir fry the beef, garlic and shrooms for about 5 minutes. Don't bother boiling the noodles, they'll cook in the sauce. Add the other goodies, put this mess in your favorite casserole dish, covered. Bake @350 for approximately 30 minutes.
* If you do this up right, the whole thing should come in at around 7 grams of fat, per serving which is about 20 grams of fat less than the real deal.
Buon Appetito!