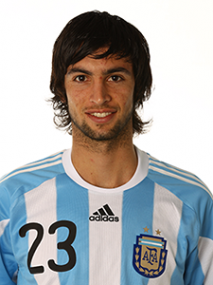 It is not going to script for Argentina. Las Albicelestes are the host nation and have, at least on paper, the strongest side in the competition. They also possess in their ranks a certain Lionel Messi. It is for these reasons that the home side were pitted as favourites before the tournament kicked off. After two unconvincing draws, however, this can no longer be the case.
Indeed, the reasons why Argentina were dubbed favourites may also be the reasons behind their uninspiring start to the tournament as clearly the team is struggling to deal with the all the pressure.
There is also much pressure on their star man, Messi. In recent years, the number ten's performances for Barcelona have been phenomenal. Not only has he scored an astonishing number of goals, but, many of them have been wonder strikes too. At such a high level has he performed these last few years for the reigning European Champions that quite rightly he has been touted to become the greatest player of all-time. He certainly has the potential.
Yet, for Argentina Messi has repeatedly failed to show his best and it is has been nothing short of a great mystery as to why. It is not that there is a lack of world class players around him. On the contrary, in their ranks Argentina possess some of the world's best players such as Carlos Tevez, Sergio Aguero, Ezequiel Lavezzi and Javier Mascherano. It may not be a golden generation, but it is an extremely talented one.
However, one reason why Messi may not perform his Barcelona-best for Argentina could be simply the pressure on him to replicate the feats of former Argentine great, Maradona, is too much. Maradona is regarded by many as the greatest player of all time and much of this is because of his extraordinary displays in Mexico in 1986 where he single-handedly (quite literally as most English fans will attest to) led his nation to just their second World Cup crown.
While this is at the least a factor in part, another reason could be the coach, Serge Batista. There can be no excuse for the low standard Argentina has exhibited in their first two matches. The team lacks cohesion, organisation and, above all, confidence. From a tactical perspective what has been ever so clear is that the team has lacked a midfielder who can link the midfield with the attacking three.
Against Columbia, Batista deployed a midfield trio of Esteban Cambiasso, Javier Mascherano and Ever Banega. While all three are class players, none of them have the ability to take the ball forward and attack. Instead, all three are holding midfield players with sound defensive capabilities and neat yet simple passing ability.
Lionel Messi, who was deployed in the center of the attacking three, was forced much like in the opening match to drop deep to get the ball. But, Messi, despite his incredible talents, cannot be expected to initiate attacks on his own, he needs support.
At Barcelona, Messi is supported by world class midfielder playmakers like Andres Iniesta and Xavi Hernandez. While the former represent Spain, Argentina does have in their ranks at least one player who could ably support Messi in prompting attacks. This player is Javier Pastore.
After their less than impressive display in the opening match against Bolivia, many tipped Pastore to be selected for the Columbia tie as it was clear that the team lacked a player who could link the midfield to the attack. But, Pastore was left again on the bench and the problem clearly persisted against Columbia.
Pastore is undoubtedly one of the most talented young players in the world today. Similar in playing style to Kaka, Pastore is the kind of player that can drive a team forward from the centre of the park. His presence in the team would alleviate some of the pressure off Messi's shoulders.
Messi needs a supporting act in carrying Argentina's attacking burden. Against Bolivia and Columbia, both Carlos Tevez and Ezequiel Lavezzi showed they have little to offer in this regard, the latter little to offer in any regard.
Batista's side now have to win their final match against Costa Rica to ensure qualification. This should be a formality since the Central Americans are the weakest team in the group. However, the pressure will be acute on Messi and co and we have all seen how this Argentinian team respond to pressure, they don't.
Nonetheless, the host nation should get the result needed. But, changes need to be made. Batista persisted with the same team for the match against Columbia as a way of not admitting to the mistakes that many accused him of making in the opening match. Now, however, Batista has to confess to getting it wrong and make changes. Pastore should come in at the expense of Banega or Cambiasso while Lavezzi must be dropped in favour, preferably, of Angel Di Maria.
While Argentina have reached crisis point, they still have time to turn things around. There is a long way to go still in this year's Copa America and it would be unwise to write them off at this early stage.