Serena Williams Is Naked And Knocked Up On Vanity Fair 
Serena Williams is famous and knocked up, and she would totally lose her status as a celebrity if she didn't wear a hand bra and proudly stick out her pregnancy belly button in a photo shoot. So Serena and Annie Leibovitz worked together to do a 2017 reboot of Demi Moore's naked and knocked up Vanity Fair cover (which was also shot by Annie) from 1991. It's like as soon as a famous chick finds out a fetus is growing in her body, her publicist hands her Annie Leibovitz's business card and a tutorial on how to bust out the perfect hand bra pose. I'm still waiting for a famous chick's man to do a naked photo shoot while clutching his sympathy weight bump.
Inside Vanity Fair, Serena talks to Buzz Bissinger about how she met and fell in love with that Reddit dude and how she couldn't believe she was pregnant and still can't really believe it.
35-year-old Serena first met 34-year-old Alexis Ohanian, who is the co-founder of Reddit, in May 2015 at a hotel in Rome. Serena was in Rome to play the Italian Open. Serena and her crew were sitting outside eating breakfast when a hungover Alexis sat at a table right next to them, which irked her because there were plenty of empty tables elsewhere. They had a little back-and-forth before she invited him to sit with them and that's how their love began.
Alexis says he knew who Serena was, but never saw a tennis match before he saw her in action after they started dating. They got engaged in December 2016 and now they're going to raise a kid together. Here they are in a picture that's like every picture every couple posts on Facebook to announce their engagement: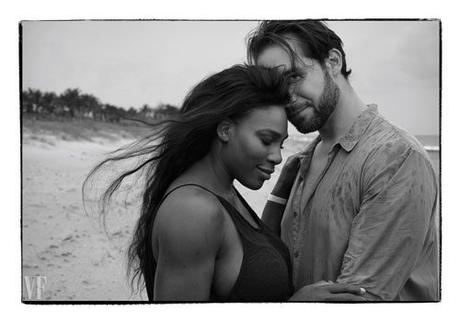 Serena says that in January 2017, a week before she was going to compete in the Australian Open, she was in practice and felt like something was going on with her body. She threw up and her chichis got bigger. Serena thought something hormonal was going on, but her friend  Jessica Steindorff (yes, the Jessica Steindorff who was involved in Caitlyn Jenner's fatal car crash) thought she may have come down with a CASE OF THE BABIES!!! Serena thought Jessica was crazy but eventually agreed to piss on a pregnancy test. Serena didn't think that one of Alexis' Reddit cum fishes grand slammed into one of her ovary eggs, and when she found out she was actually pregnant, her mind immediately went to tennis.
Serena, as she put it, "did a double take and my heart dropped. Like literally it dropped.

"Oh my God, this can't be—I've got to play a tournament," said Serena. "How am I going to play the Australian Open? I had planned on winning Wimbledon this year."
Serena thought that test was lying so she took five more and they all came out positive. Serena called Alexis and told him that she needed him to immediately get on a plane to Melbourne. (Side note: You know that either you're richer than ass, or your man is richer than ass, or both, when you tell him to get on a plane to Australia.) When Alexis got to Melbourne, Serena let a bag of piss sticks do the talking:
When she saw him, not a word was said. She handed him a paper bag with the six positive pregnancy tests.
I don't know if Serena washed them off first, but if I flew to Australia and my piece immediately handed me a bag full of piss sticks, I'd wonder why they couldn't wait until they got home to let me know they want to get into some piss play with me.
Serena went on to win the Australian Open while 8 weeks pregnant. Serena was a little more than 6 months pregnant when she talked to Vanity Fair in May and said that she still can't believe she's going to be somebody's mother.
"[It] just doesn't seem real. I don't know why. Am I having a baby? If you would have told me last year in October or November that I would have a baby, not be pregnant but have a baby, I would have thought you were the biggest liar in the world. This is kind of how I am right now. This is happening sooner than later, and it's going by so fast."
Serena and Alexis will probably get married in the fall, and she plans to return to tennis in January, just a few months after a baby gets pulled out of her. Well, hopefully when she comes back, she can do well enough to make it to the #699 best player in the world, which is my segue into John McEnroe's ass.
Tennis legend and ESPN commentator John McEnroe is out there promoting his new book, But Seriously, and he did an interview with NPR where he was asked about calling Serena Williams "the greatest female player in the world." John said that Serena is the greatest female player in the world, but that she doesn't come close to being the greatest player in the world overall. John said that if Serena played in the men's circuit, she wouldn't even rank in the top 100 or even in the top 500. She'd rank 700 in the world. John said that she could beat some men, but could never rule the men's circuit.
Yeah. That doesn't mean I don't think Serena is an incredible player. I do, but the reality of what would happen would be I think something that perhaps it'd be a little higher, perhaps it'd be a little lower. And on a given day, Serena could beat some players. I believe because she's so incredibly strong mentally that she could overcome some situations where players would choke 'cause she's been in it so many times, so many situations at Wimbledon, The U.S. Open, etc. But if she had to just play the circuit — the men's circuit — that would be an entirely different story.
After John's comments lit the internet on fire and made many rank him in the top 10 of the Most Sexist Tennis Players in the World, Serena hit back at a trick and let him know to please leave her alone.
Dear John, I adore and respect you but please please keep me out of your statements that are not factually based.

— Serena Williams (@serenawilliams) June 26, 2017
I've never played anyone ranked "there" nor do I have time. Respect me and my privacy as I'm trying to have a baby. Good day sir

— Serena Williams (@serenawilliams) June 26, 2017
John was on CBS This Morning and refused to apologize and didn't think his words about Serena were so controversial. He also said that if he got back into the game right now, he'd be ranked at 1,200 in the world.
Where would John McEnroe rank himself?
"I would be, currently, about 1,200 in the world." pic.twitter.com/KJSMBiuBlY

— CBS This Morning (@CBSThisMorning) June 27, 2017
I know nothing about tennis and when I do watch it, I focus only on the balls, and I'm not talking about the green ones that fly over the net. So I don't know about rankings, or whatever, but Serena at 700?! That sounds crazy to me. I have a feeling that the man who is ranked at 700 right now is going to lose a few matches so he slips down to 701. That way he won't have to play Serena if for some reason she decides to show John McEnroe he's wrong by playing and beating men's player #700, #699, #698 and so on and so forth.
Pics: Annie Leibovitz/Vanity Fair
Source: Serena Williams Is Naked And Knocked Up On Vanity Fair 
5 total views, 5 views today