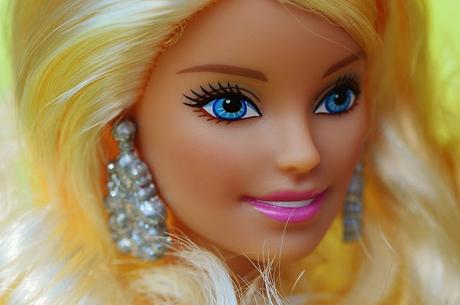 September 6th is... Barbie Doll Day (1959)
, National Fight Procrastination Day/Do It! Day, Great Egg Toss Day, National Coffee Ice Cream Day, Stillbirth Remembrance Day, Read a Book Day, National Iguana Awareness Day, Pink Panther's Birthday, Dragon-Tales Debuted (1999), Blackout Day, Day of Sex (Brazil), Unification Day (Bulgaria)
PLUS -
interesting books to read and free printables, papercrafts, kid crafts, activities, and coloring pages.
Want more Holidays to celebrate? Click for our Index of Holiday FreebiesSocial Media:
#specialdays #holidays
---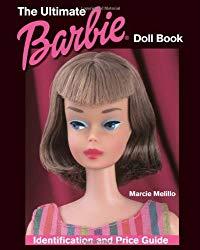 Barbie Doll Day
-- The Barbie doll first went on sale in 1959. Ruth Handler
(wife of one of Mattel's founders, Elliot Handler)
noticed her daughter, Barbara, gave adult roles to paper dolls when she played with them. In 1956, Handler bought three German Lilli dolls while vacationing in Switzerland, and used them as her inspiration in creating the Barbie doll when she returned to California. The first Barbie wore a black and white swimsuit, had the full name of Barbara Millicent Roberts, and came with either blonde or brunette hair.
Source
Read: The Ultimate Barbie Doll Book
, by Marcie Melillo
-- Barbie swept into our lives in 1959 and grew up before our eyes. Now
The Ultimate Barbie Doll Book
sets the record straight. This exciting new guide to America's fashion diva bursts with more color photos than any other book dedicated to Barbie. Designing for beginning through advanced collectors, dealers, and Barbie fans, this one-of-a-kind book clearly and chronologically identifies U.S.-issues Barbie dolls, friends and family.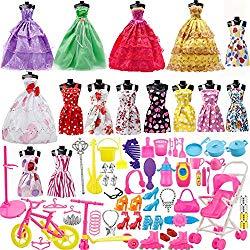 • Barbie Doll Clothes Set --
Five different style doll princess dresses. The party gown dresses are trendy with modern silhouette and glam details like the layered design, exquisite lace and sequin stitching, high quality hand made party dress for Barbie dolls. Ten different style doll princess clothing, rainbow style / love heart style / strip style / dot style/ star style/ fruit style. 98pcs doll accessories include shoes/ hangers/ bags/ crown/ neckless/ earring/ bracelet/ comb/ mirror/ hairpin/ bathroom ware/ tableware/ sofa/ guitar and so on. Perfect for Barbie doll / vintage Barbie doll / silkstone Barbie doll / momoko doll / blythe doll / pullip doll / jenny doll and other 28cm-30cm doll(11. 0"-11. 8").
• Barbie Career Fashion 5 Dolls Set --
Includes Barbie ice skater doll, Barbie chef doll, Barbie pet vet doll, Barbie tennis player doll and Barbie pilot doll wearing fashions and accessories, plus career-themed pieces.
• Barbie Bundle --
Beauty Basics Doll, Puzzle, Play Pack with Coloring Book, Velvet Poster, Crayons and Holographic Stickers, two Card Games and over 100 Stickers
• Barbie Coloring and Activity Books
---
Free Printables, Coloring Pages, Activities and Crafts:
🚶‍♀️
Fun Games, Videos, and Activities for Kids | Barbie
🚶‍♀️
Free Barbie ebooks
🚶‍♀️
69 Barbie pictures to print and color
🚶‍♀️
Over 300 Barbie coloring pages
🚶‍♀️
Barbie Printables and Coloring Pages
🚶‍♀️
FREE Printable Barbie Birthday Party Invitation
🚶‍♀️
Barbie Craft Downloads | SimpleKidsCrafts.com
🚶‍♀️
Barbie,fashion dolls, and Baby doll clothes patterns
🚶‍♀️
Barbie Dreamhouse Free Papercrafts
🚶‍♀️
Barbie Crafts Archives | Kids Kubby
🚶‍♀️
Barbie Archives | Fun Family Crafts
🚶‍♀️
Free Barbie Paper Doll