September 25th
is National Comic Book Day!
If you've never read a comic book… what's stopping you?

Comic books have been around for over 100 years with, "The Adventures of Obadiah Oldbuck" published by Switzerland's Rudolphe Töpffer in 1837. Since then we have seen everything from colorful characters, super heroes and talking animals. They've explored new planets, saved this one, and even crossed over into alternate realities. 
Superman, Batman, Spider-Man, Wolverine, and the Avengers top the pull list for many readers and collectors as they have spawned movies that have generated billions of dollars and reached out to those who have never considered buying a comic book. Odds are, if you've never spent four dollars on a comic book, you have spent almost twenty on a ticket to a 3D showing of a movie about one. 
So, if you've never read a comic book… what's stopping you?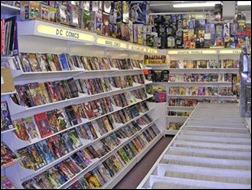 If you've never been into a comic book store you'll notice most of them carry more than just comics. Board games, card games, video games, collectibles, and action figures are additional items that fill the modest spaces of the majority of comic shops. It's the wall of comic books in the back of the store that draws many patrons in to spend, what once was as little as a dime, three or four dollars to read the monthly adventures of their favorite hero or heroine.
From standalone stories to collections that span across several issues rolled into a trade-paperback, these books have provided thousands upon thousands of stories for people of all ages. Many of us have collected since we were kids, some are just getting introduced and some who have outgrown comic books are introducing their children to them.
Comic books have become a part of society as their references have invaded our dialog much like any other form of pop culture. There are people who have never picked up a comic book in their life but know the names of 'B' list heroes thanks to cartoons on Disney XD. Even television has reaped the benefits of telling a good superhero story with original dramas such as: The Greatest American Hero, The Cape, Heroes and No Ordinary Family. Some performing better than others, but despite failures, the network's aren't giving up as ABC gears up production for its S.H.I.E.L.D. spin-off from the Avengers movie and The CW's premiere of The Arrow next month.
If you've never read a comic book because you felt they were for kids or forty year old men living in their parent's basements; please shed yourself of such ignorance. The graphic content in most comic books today are not meant for children's eyes. The storylines and dialog are for much more mature readers than that of an eight or nine year old kid. Marvel and DC Comics have done a great job creating kid-friendly comic books, but the majority of titles out there are for an older audience.
A comic book is more than just a picture book; It's a book that contains fantasy, science fiction, adventure, and comedy rolled up into a work of art. It's an escape from today's world, once a month, that takes twenty minutes of your time and a couple of your dollars.
If you've never read a comic book or feel that you've grown out of it, swing by your local comic book store today and browse through a few issues. After all the next Free Comic Book Day isn't until May 4th, 2013 – so why wait until then? Expose your mind to intricate plot lines and treat your eyes to artwork that, in many cases, deserves to be on a canvas.
So, if you've never read a comic book… what's stopping you?
Share your heart wrenching tale of how expensive and childish it is in the comment section below.
by Stephen Mitchell
Image Credits:
Banner courtesy of library.thinkquest.org (all character's owned by Marvel or DC Comics)
Thumbnail of comic book shelves courtesy of hastac.org