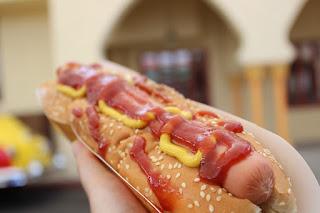 September 10th is...
National Hot Dog Day, Blame It on the Large Hadron Collider Day, International Creepy Boston Dynamics Robotic Horse Day, International Make-Up Day, National Swap Ideas Day, World Suicide Prevention Day, National TV Dinner Day, Sewing Machine Birthday/Sew Be It Day (1846), Cheap Advice Day, Teachers' Day (China), Children's Day (Honduras), Nationale Mamablogger Day (Netherlands), Florida Missing Children's Day (Florida)
MORE:
The Start of Rosh Hashanah/Day of Blowing the Shofar/Day of Judgement/Day of Remembrance/Jewish New Year (1st of Tishri), I'm on Top of It Day (2nd Monday), National Boss/Employee Exchange Day (2nd Monday)
PLUS -
interesting books to read and free printables, papercrafts, kid crafts, activities, and coloring pages.
---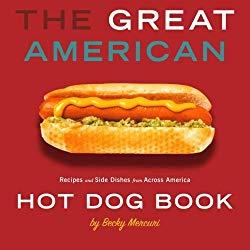 National Hot Dog Day
-- The term
hot dog
is credited to sports cartoonist Tad Dorgan. At a baseball game in New York in 1901, vendors began selling hot dachshund sausages in rolls. The average American is believed to eat approximately 60 hot dogs every year. It is estimated over seven billion hot dogs will be eaten by Americans between Memorial Day and Labor Day.
Source
Read: The Great American Hot Dog Book: Recipes and Side Dishes from Across America
by Becky Mercuri
-- From the classic Coney Island Dog of New York to the tortilla-wrapped Bacon Burrito Dog served up at Pink's in Los Angeles,
The Great American Hot Dog Book
takes you on a tour of each state and reveals the inside story of where the hot dog originated and how it became one of America's favorite food icons.
Whether at ball games, picnics or family cookouts, Americans consume around 20 billion hot dogs a year, so it's no wonder they are permanently part of our culinary traditions. Wherever you find yourself in the country, there's bound to be a local hot dog stand, deli, diner or restaurant with a special take on this American comfort food classic.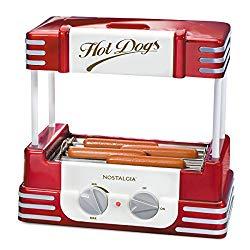 • Nostalgia Hot Dog Roller and Bun Warmer --
Cooks up to eight delicious regular-size or four foot-long hot dogs at a time. Continuously rotating stainless steel rollers cook hot dogs. Bun warmer in canopy holds up to six buns at a time
• Nostalgia Retro Series Pop-Up Hot Dog Toaster --
Toast two regular-size or extra-plump hot dogs, and two buns at a time for a quick and delicious meal solution. The tongs keep hands safe when removing your dogs after they're done toasting.
• Hot Dog Pool Float --
Great for Miami, Hawaii and Las Vegas Pool Parties; Kosher; Made of Beef. Great For Memorial Day, 4th of July and Labor Day Pool Parties. Seven foot long.
• Hot Dog Coloring Books
Free Printables, Coloring Pages, Activities and Crafts:
• {Free Printable} Hot Dog Buffet Signs
•
Free printable hot dog bar signs
•
Hotdog Trivia Questions
•
Printable Hot Dog On a Stick Hat
• Slinky Dog Hot Dog Skewers
•
Printable Hot Dog Lacing Cards
• Hotdog Eating Certificate
•
Hot Dog Dude Paper Toy
• Hot Dog Archives | Fun Family Crafts
• Free Tutorial for Making a Toy Food Hot Dog and Bun with Felt
• DIY Kid's Hot Dog Stand
•
Hot Dog Coloring Pages
---