Sephora is beautifying the Big Apple one location at a time. Continuing to transform the face of beauty retail with it's remodeled retail locations. The next location up to reveal it's chic new facelift - Union Square, which will hold a grand re-opening event on Friday, August 10th and Saturday, August 11th.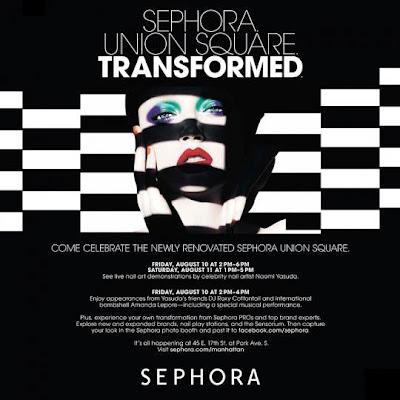 The Sephora Union Square transformation includes a larger footprint, allowing for bigger and better brand events and one-of-a-kind experiences, such as the unique Sephora Fragrance Sensorium, a dynamic, interactive installation, designed for scent exploration modeled after last year's groundbreaking exhibition produced by Sephora and Firmenich. The renovated location also features a Personal Beauty Advisor (PBA) room where beauty lovers can receive Sephora's signature consultations in a sophisticated and private atmosphere, and the Ready­_Set_Polish nail workshop at the Sephora Nail Studio, including how-to videos of the seasons must have nail art.
While perusing through Sephora's vast availability of beauty brands, you also get to enjoy some beautiful art. SABINE, an electrifying installation by renowned artists, Craig & Karl will evoke a sense of wonder and strength in you. Craig Redman and Karl Maier explore simple, unifying concepts through unexpected and often humorous means. So what can you expect at the grand re-opening event? Checkout the exciting events below:


 Embark on an interactive fragrance journey with Sephora Fragrance Experts at the Fragrance Jewel Box

 Explore the world of fragrance with Sephora's Fragrance Experts as they guide you through an experience modeled after last year's limited edition fragrance experience produced by SEPHORA and Firmenich, the Sensorium. This dynamic concept is designed to reignite the love of fragrance guided by emotional impression instead of note composition or marketing input.


Live nail art demonstrations by celebrity nail artist and manicurist, NAOMI YASUDA –   August 10th - August 11th

Celebrity Nail artist NAOMI YASUDA is a true artist in her approach to nail design. Trained at Chunichi Beauty College in Nagoya Japan, Naomi moved to New York City in 2007, where nails have since become her permanent canvas. Her work has graced the pages of many magazines, music videos and some of the world's most renowned celebrities and trendsetters.


Musical performance by fashion icon and performance artist, AMANDA LEPORE – August 10th

Help celebrate the grand re-opening of Sephora Union Square with famed night-life icon and recording artist AMANDA LEPORE, who will be on hand for a special musical performance. Joining Amanda will be Celebrity DJ Roxie Cottontail, setting the beauty beat as you receive complimentary beauty services, take snap shots in the Sephora branded photo-booth and snack on sweet treats from Glitter Cupcakes!  

Go Crazy for Nails at the Sephora Nail Art Carts, Friday August 10th – August 11th

Modeled after the new Ready_Set_Polish interactive nail workshops at Sephora Union Square, these mobile Sephora Nail Art Carts will be situated throughout the Flatiron District, allowing everyone to test and try a selection of nail trends with Sephora's Nail Experts and get a glimpse of what is available in-store.


Additionally, all Sephora Beauty Insiders are eligible to receive an exclusive Sephora Union Square tote bag with any purchase of $50 or more*! * Valid at Sephora Union Square beginning Friday August 10, while supplies last. One offer per person. Not redeemable for cash or credit.