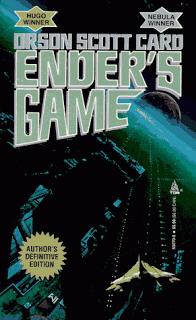 Cover Art for Orson Scott Card's Ender's GameRetrieved from http://www.hung-truong.com/blog/2009/11/29/enders-game-book-report/


       Every day, we hear about new scandals from celebrities who have angered a portion of the population with an inappropriate, or simply unfortunate, comment.  With the kind of scrutiny that stars live under, it might be inevitable that they slip up eventually.  An offensive or controversial view is spoken of in public and suddenly, that artist's work is being boycotted by angry people.  It seems like society is finding it increasingly difficult to separate an artist's beliefs from their work.

       I could list any number of examples.  Michael Richards' infamous rant at a comedy club was understandably upsetting to fans.  He was in the middle of a stand up set when he lost control and started shouting racial slurs at the audience. 
In his case, his art was directly affected by his prejudice.  The people who walked out of the club were justified in being offended by the art he was presenting to the public.  But why are so many people still upset by an artist's beliefs, when those beliefs have nothing to do with the product?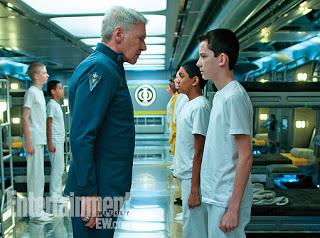 Photograph taken by Richard Foreman Jr. for Entertainment WeeklyRetrieved from http://insidemovies.ew.com/2012/12/05/enders-game-exclusive-first-look/
       I've recently been looking forward to the upcoming release of the movie adaptation of Ender's Game.  Ender's Game is an iconic 1985 science fiction novel written by Orson Scott Card.  The book has a devoted, built in fan base that should roll over into the movie.  However, Card was just in the news for his angry and opinionated views on gay marriage.  His views were not unknown previously, but they were recently brought back into the public eye when it was announced that Card would be involved in a new anthology of Superman comics.  Fans reacted by signing petitions and refusing to buy the product.       Since the scandal broke, executives with the movie have begun separating themselves from Card's image to try to protect the box office.  I'm personally pro-gay marriage, and I'll fight for anyone's right to marry the person they love.  I also think, however, that it's absolutely ridiculous to boycott a movie because the writer of the book version doesn't have the same beliefs that I do.  Ender's Game was one of my favorite books when I was a teenager.  Any offense I take at Card's personal opinions has no effect on my enjoyment of his book.  Art should never be confused with personal morality.