I am a heritage hog. And, surprise surprise, this trip wasn't without its share of visits to UNESCO World Heritage Sites. South Korea has twelve inscribed in the World Heritage List:
Baekje Historic Areas (2015)
Changdeokgung Palace Complex (1997)
Gochang, Hwasun and Ganghwa Dolmen Sites (2000)
Gyeongju Historic Areas (2000)
Haeinsa Temple Janggyeong Panjeon, the Depositories for the Tripitaka Koreana Woodblocks (1995)
Historic Villages of Korea: Hahoe and Yangdong (2010)
Hwaseong Fortress (1997)
Jeju Volcanic Island and Lava Tubes (2007)
Jongmyo Shrine (1995)
Namhansanseong (2014)
Royal Tombs of the Joseon Dynasty (2009)
Seokguram Grotto and Bulguksa Temple (1995)
Do I want to visit all these sites? Heck, yeah. But quite impossible to do in just one short visit. So I try to squeeze in at least one per visit. In 2012, I visited 
Changdeokgung Palace Complex
 in Seoul. In 2014,
Seokguram Grotto and Bulguksa Temple
 in North Gyeongsang Province. And in 2016, I managed to visit four: Jongmyo Shrine in Seoul, two of the Royal Tombs of the Joseon Dynasty, Hwaseong Fortress in Gyeonggi Province, and Haeinsa Temple Janggyeong Panjeon in South Gyeongsang Province.
Jongmyo Shrine
종묘
157 Jong-ro, Jongno-gu, SeoulWednesdays to Mondays 9AM to 530PMEnglish Guided Tours at 10AM | 12NN | 2PM | 4PMAdmission Fee KRW 1000
Directions to Jongmyo Shrine:
Take subway line 1 to Jongno-3(sam)-ga Station, exit 11. Or subway line 2 or 5 to Jongno-3(sam)-ga Station, exit 8. Jongmyo Shrine is a 10-minute walk from any of the three options.
Jongmyo Shrine was founded in 1395 by the founder of the Joseon Dynasty, King Taejo. For centuries, Jongmyo Shrine was where the Confucian rites—Jongmyo Jerye (royal ancestral rites) and Jongmyo Jeryeak (royal ancestral ritual music)—for the deceased kings and queens was held several times a year. It is also where their spirit tablets are enshrined. Nowadays, the ritual is only performed once a year, on the first Sunday of May.
It was a solemn tour around Jongmyo Shrine with only about a dozen guests. The structures in Jongmyo were plain and similar looking but it's the history and the ritual behind it that made it an interesting visit (thanks to the guide who spoke English well and encouraged visitors to ask questions). There are some countries that follow Confucianism, but it is only Korea that still performs this ritual.
Tips:
Eventhough Jongmyo Shrine is open from 9AM to 530PM, visitors can only enter during scheduled tours. Purchase an admission ticket at least five minutes before the scheduled tour.
If you'd like to visit Jongmyo Shrine without a guide, you can do so anytime between opening hours on Saturdays and on the last Wednesday of every month. Added bonus on the last Wednesday of the month: free admission.
If you plan to visit Jongmyo Shrine and all four palaces (Gyeongbokgung, Changdeokgung, Changgyeonggung, and Deoksugung), get the combination ticket KRW 10,000. It will save you KRW 4000.
Visit on the first Sunday of May to witness the Confucian ancestral rites being performed.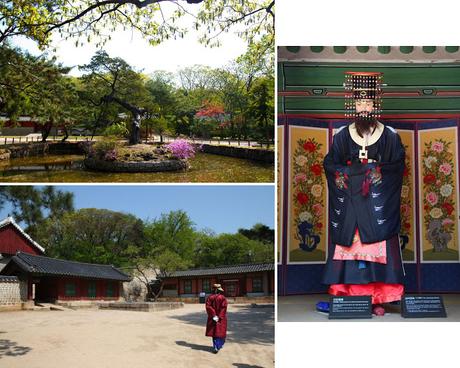 The Main Hall called Jeongjeon is where the spirit tablets of kings and queens are enshrined.

Yeongnyeongjeon or the Hall of Eternal Peace enshrines four generations of King Taejo's ancestors

Royal Tombs of the Joseon Dynasty
Seolleung and Jeongneung Royal Tombs
서울 선릉과 정릉
1 Seolleung-ro 100-gil, Gangnam-gu, Seoul
Tuesdays to Sundays 6AM to 9PM
(Opens 630AM November to February)Admission Fee KRW 1000
Directions to Seolleung and Jeongneung Royal Tombs:
 Take Seoul subway line 2 or Bundang Line to Seolleung Station, exit 8. Walk about 5 minutes along Seolleung-ro, turn right to Seolleung-ro 100-gil to find the entrance to the park.
There are
18 Royal Tomb sites
, and five of these are in Seoul. Of the five, I visited the Seolleung and Jeongneung Royal Tombs (also known as Seongjeongneung Royal Tombs), which is located in just one park and can be reached via a subway ride (for the other Royal Tombs around Seoul, one has to take the subway and bus).
Seolleung is the tomb of King Seongjong, the 9th ruler of Joseon Dynasty, and his third queen, Queen Jeonghyeon. And Jeongjeung is the tomb of King Jungjong, the second son of King Seongjong, thus the 11th ruler of Joseon Dynasty. (King Jungjong's first queen, Queen Dangyeong, is buried in Olleung Royal Tomb in Gyeonggi Province, which is not open to the public. His second queen, Queen Munjeong, is buried in Taereung Royal Tomb in Seoul.)
The tombs all look similar: it has a red spiked gate that marks the start of a stone path (the king's road on the right, and a slightly elevated spirit's road on the left—no man should walk on the spirit road!), which leads to shrine where the ancestral rites are held. There is also a small shed where tombstones inscribed with the deceased royalty's achievements are kept. Then a small hill where the burial mound, surrounded by stone figures and a low stone wall, is.
Of the three burial mounds at Seolleung and Jeongneung, the burial mounds of Queen Jeonghyeon and King Jungjong can only be viewed from below the small hill where I didn't really see anything but grass and, if I made like a giraffe, heads of some stone figures. The burial mound of King Seongjong though, I did see up close, because it had a small viewing area off to the side of the wall that surrounds the burial mound.

Seolleung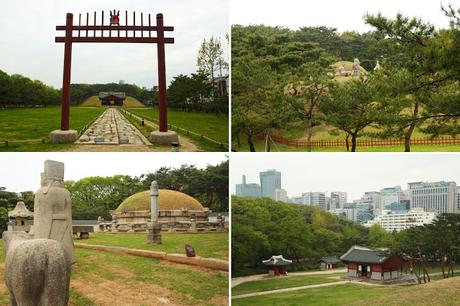 Clockwise from top left: Red spiked gate to Jeongneung, burial mound of King Jungjong,the ceremonial area for Seolleung, burial mound of King Seongjong

King Seongjong's burial mound
Here's a map of UNESCO World Heritage Sites in Seoul:
South Korea on Three
South Korea CountdownItinerary and ExpensesSouth Korea Solo: Tangible Essentials
Six Apps for a Smooth South Korea Trip
Incheon: Tail End of Cherry Blossom Season
Seoul Stays: Kam Guesthouse and Aroha Guesthouse
Seoul Food
Seoul: Songpa Naru Park and Banpo Hangang Park
Seoul: Wander Around City Hall Station
Seoul Art: Nanta!, Ihwa Mural Village, Dongdaemun Design Plaza (DDP)
Seoul World Heritage: Jongmyo Shrine, Seolleung and Jeongneung Royal Tombs (you're here!)
(more soon)