A blank slate for Day Two. All the planning was up to GaYeong, a friend I haven't seen in four years. She told me to meet her at exit 12 of City Hall Station (Seoul subway line 1 or line 2). Hugs and how-are-yous, then off to explore the area near City Hall Station.


Jeongdong Observatory

정동전망대

15 Deoksugung-gil, Jung-gu, Seoul(13th floor of Seosomun Building)Daily 9AM to 6PM
First up, a cup of joe at Jeongdong Observatory to warm the body that breezy, chilly morning. We went up to the 13th floor of Seosomun Building where the observatory slash coffee shop was. The observatory/coffee shop overlooks Deoksugung Palace; and a little to the right, Seoul Metropolitan Library, Seoul City Hall, and Seoul Plaza; and the tall buildings and mountains beyond. I was pleasantly surprised by this little gem of a coffee shop. It was a great place to catch up and to start the day.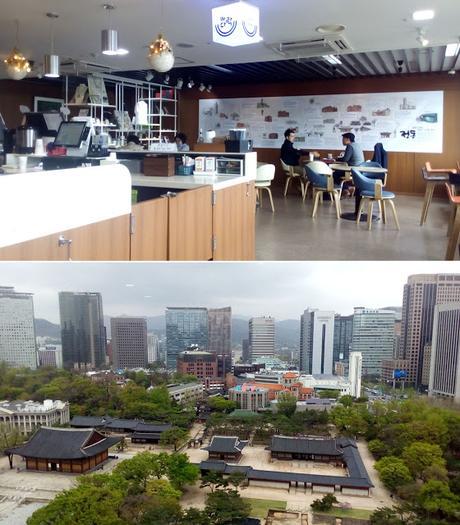 Deoksugung Palace as seen from Jeongdong Observatory



Deoksugung Doldam-gil

덕수궁 돌담길


Warmed up enough, we went for a walk along Deoksugung Stonewall Road or Deoksugung Doldam–gil, the road on the south side of Deoksugung Palace. We strolled along the brick-laden sidewalks (with trees and benches every few meters) until we reached a little rotunda with a sculpture in the center. Then we traced our way back. Because, in truth, this stroll wasn't on the plan. It happened because we took a wrong turn. We were supposed to go to Deoksugung Palace straightaway after our cup of joe at Jeongdong Observatory.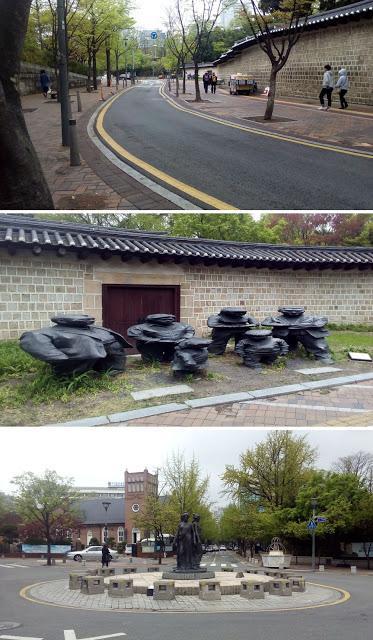 Deoksugung Doldam-gil (top), squished sculpture (center), a rotunda at the end of the road (bottom)



Deoksugung Palace

덕수궁

99 Sejong-daero, Jung-gu, SeoulTuesday to Sunday 9AM to 9PMAdmission Fee KRW 1000
We went into Deoksugung Palace for one building: the Seokjojeon Hall, also known as Daehan Empire Historical Museum. GaYeong didn't tell me that she had booked us for a tour in the hall/museum that I dawdled around Deoksugung Palace grounds, causing us to be late for the tour. Thankfully, they still let us in.
Seokjojeon Hall, a very western looking building, was designed by a British architect and construction started in 1900 and was completed in 1910. (Aside from Seokjojeon Hall, there is another western-style building in the palace grounds and it currently houses theNational Museum of Modern and Contemporary Art 

국립현대미술관.) 

The interiors of Seokjojeon Hall were classy beautiful. Too bad the tour was in Korean that I went in and out of Seokjojeon Hall none the wiser.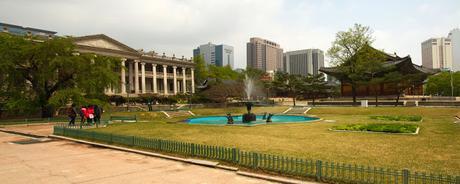 The building on the left is Seokjojeon Hall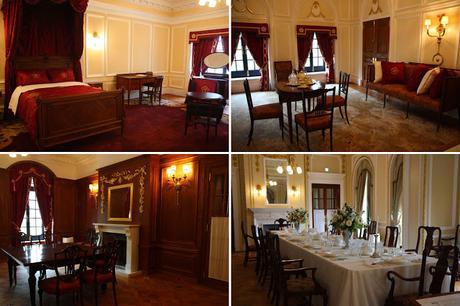 Inside Seokjojeon Hall
After the Seokjojeon Hall tour, we looked around the palace grounds. I had no idea what the history and significance of Deoksugung Palace was because it was already past the last free English guided tour (Deoksugung Palace English guided tours at 1030AM and 130PM only), thus no guide.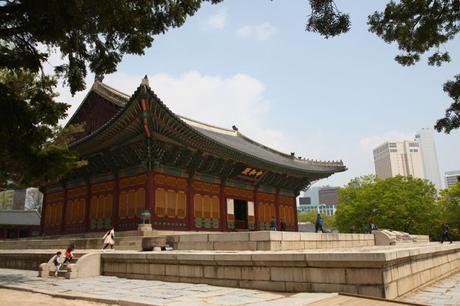 Junghwajeon Hall is the main hall of Deoksugung Palace
As we left Deoksugung Palace, a Changing of Guards Ceremony was taking place. (Ceremony schedule: 11AM | 2PM | 330PM)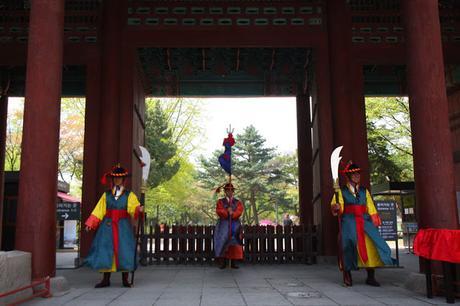 Guards at Daehanmun Gate



Seoul Metropolitan Library

서울도서관

110 Sejong-daero, Jung-gu, SeoulTuesday to Friday 9AM to 9PMSaturday and Sunday 9AM to 6PMClosed on Mondays
Because I am nuts for books, even libraries are not spared. After Deoksugung Palace, we went into the Seoul Metropolitan Library, checked out every floor, looked at book spines (most of it was in Korean), and spent some time in a room dedicated to the Sewolho Ferry Disaster.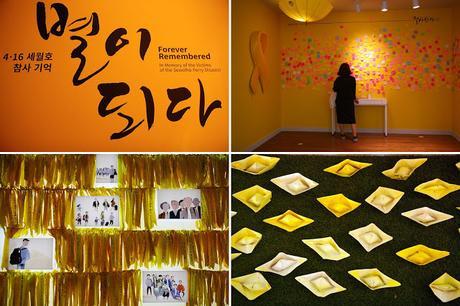 A sobering exhibit/memorial



Seoul Plaza

서울광장

110 Sejong-daero, Jung-gu, Seoul(In front of Seoul Metropolitan Library)
We went out of Seoul Metropolitan Library a little solemn (effect of the Sewol Ferry Disaster memorial) and walked slowly to Seoul Plaza, just outside of the library. Seoul Plaza is an open space where events like exhibits and concerts are held here every so often and, in the winter, transforms into an outdoor ice skating rink.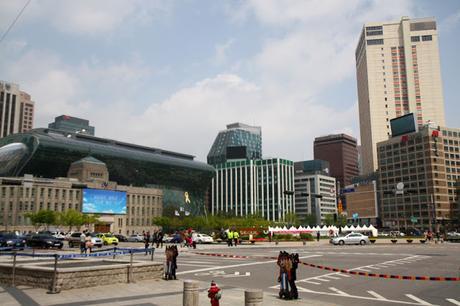 Across the road are Seoul Plaza and Seoul Metropolitan Library



Oh Hyang Jokbal

오향족발

134-7 Seosomun-ro, Jung-gu, 100-865 Seoul
And then it was time for lunch at Seoul's Top 3 Jokbal (pig's trotters) restaurants: Oh Hyang Jokbal, tucked in an alley that took us some time to find. All the more aggravating our hunger.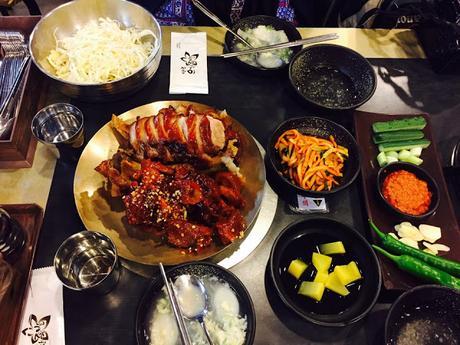 A jokbal feast at Oh Hyang Jokbal

Other places nearby that you might want to visit:
Seoul Museum of Art (SeMA)
Grevin Seoul Museum (Wax Museum)


South Korea on Three

South Korea CountdownItinerary and ExpensesSouth Korea Solo: Tangible Essentials
Six Apps for a Smooth South Korea Trip
Incheon: Tail End of Cherry Blossom Season
Seoul Stays: Kam Guesthouse and Aroha Guesthouse
Seoul Food
Seoul: Songpa Naru Park and Banpo Hangang Park
Seoul: Wander Around City Hall Station (you're here!)
(more soon)