Located on Birmingham's doorstep is the city of Coventry, I chose to visit Coventry on a whim with not much of a reason for my visit. I had been drawn towards Coventry to reunite with my Hallmark brothers just a couple of weeks ago so I wanted to revisit the home of Lady Godiva to execute a day of random adventure that would be teamed with a medieval discovery. So as the say going I was 'Sent To Coventry!' 
Built in 1300, Coventry Cathedral stood before me not in its original state due to the heavy bombing it was beaten with during WWII. I noticed as the centenary year dawns for this once operational place of worship a phase of restoration was being carried out. Located less than thirty minutes from Birmingham I saw a day trip to Coventry the perfect antidote after handing in my draft Dissertation and a additional assignment as the pressure's been turned up at Uni. Making my way from the train station, through Broadgate to the cathedral took the pace for my Coventry city trip. I really liked the open air feeling of the original Coventry Cathedral so I felt it wasn't necessary to visit the back-up cathedral for the 1300 Coventry Cathedral served up a lot of Medieval Realness! The weather took a few turns for the worst with spots of rain but my time at the cathedral fared to be bright so my day began very well. I say we shouldn't hate on Cov because I think its a interesting city!
Coventry you say? I know the phrase 'Sent To Coventry' doesn't mean the best of terms so I wanted to put that meaning into my own interpretation. I had been to Coventry several times before my independent visit but I had not applied the same thought like I give to cities that don't get the best mention in the media. The recent demise of Coventry City Football Club probably hasn't been the best card dealt for the city so I bought my super cheap £3.40 return train ticket from Birmingham New Street station to do some investigating for myself! I know I do visit some odd places for Coventry isn't really on the general tourist map for England. Word on the street is that Coventry is getting its own 'TOWIE' style television show cleverly named 'Sent To Coventry' so I say watch this space!? 
Like many places in the West Midlands and Warwickshire industry has played an integral part of their development and legacy. Coventry's Transport Museum stands out as a modern and informing place of learning to educate visitors that Coventry contributed immensely to the production of motorcars and motorbikes since 1896. The many exhibits on display at the Coventry Transport Museum painted a picture that Coventry relied on its motor production heavily. Displayed vehicles from the Singer Company and Jaguar looked great, so I gained a picture of what contribution this industry gave to Coventry's development as a city. I'm a transport buff so I love anything from trains, planes to even cars so it was a great way to see something in Coventry that was free! Certain trailblazers are highlighted at the museum such as; Muriel Hind who became the first woman to own and ride a motorcycle, I suppose in the 1900's it wasn't the done thing for a woman to do such a thing like that?!
Linking back to the Cathedral, Coventry received a beating during WWII with a series of heavy bombing during the Blitz, effectively destroying a larger proportion of the city. But why was Coventry hit the worst? I learnt throughout my day in Coventry that the Warwickshire city produced a large proportion of the ammunition for the British army to defeat the Germans, I don't see that a fit reason to shower Coventry with a storm of bombs? Could a Coventry made motor hit 763 mph? You could say that I was pleasantly surprised by the offerings that Coventry served to me during my day of discovery. Anyway, from cars, to concrete my day in Coventry was a welcome break from perfecting my Dissertation so I'm appreciative for that if nothing else! I wonder if Visit Coventry would approve of my experiences in Coventry so far?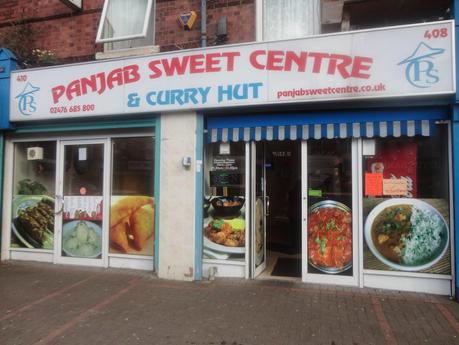 We all need to spice up our lives from time to time! In hot pursuit for some good Indian food I set off from the city center limits in search of Foleshill. Teamed with my IPhone map I found Foleshill Road with no bother, it was a walk of thirty minutes or so but I haven't been so good with going to the gym recently so I saw my walk to Foleshill as a workout! I try to not judge people when they walk past but I kept my wits about me throughout my day in Coventry and especially as I approached the heart of the Foleshill Road. Birmingham is famed for its Indian and Kashmiri cuisine so I wanted to see what Foleshill, Coventry had to say for itself! The cultural contrasts from the city center to the changing businesses dotted along the Foleshill Road told me I was walking into a Asian and Arab infused neigbhourhood.

 

From the barbershops, Gurdwara's and sweet centres I was getting ever closer to my Indian infused dinner stop! I would be nothing without my GPS enabled phone to get me on the right track!
I chose to eat at Panjab Sweet Centre and Curry Hut located on the Foleshill Road, Coventry. I enjoyed a Chicken Balti that was served with a Naan, I traded a Coke for a Masala tea because a hot drink works better with spice. I'm more of a Korma person but on the two occasions that I have enjoyed a Balti dish I have been pleasantly surprised. After I finished my Balti, Naan and tea I chose to buy some Indian sweets. I believe that I bought some Chamchams, Besan and Gulab Jaman that I planned to enjoy another time with a nice sweet cup of tea. Foleshill showed me a scene and vibe that I saw in Sparkbrook, Birmingham so my experience was authentic as it was going to get! Panjab Sweet Centre did serve me a nice meal but I wouldn't choose to eat their for a formal occasion because it had a different function more like a takeaway but it was nice nonetheless.  
Broadgate, Coventry is home to the city's main shopping amenities and the gateway to the train station, so I made my way past the statue of Lady Godiva twice that day. I wasn't satisfied with the appearance of the main square with the farmer's market set up so I waited until I returned from Foleshill to capture the image to the right. Who's this Lady Godiva? The 11th Century Anglo Saxon Lady Godiva rode horseback through the streets of Coventry in her birthday suit, all because she didn't agree with a taxation law her husband had passed. Out of all the places that I saw in Coventry I would have to say that I love Broadgate's concrete theme for it looked quite retro! Call me crazy but I know it worked! Having been to this side of the city a little while before my recent trip to Coventry I was glad to be back to take some snaps! I had to grab a white t-shirt for a upcoming photo-shoot the next day so I tried my luck in Broadgate's flagship Primark store to find a bargain tee for £2.00!
My planned yet spontaneous afternoon in Coventry did surprise me for I saw sights that were great like the Coventry Cathedral and the statue of Lady Godiva at Broadgate. I learnt about how badly Coventry was hit during the second World War and that the motor industry took Coventry to new heights back in its heyday. I did take an air of caution to leaving the city limits in order to visit Foleshill for some dinner but all was good. I say that places and people are judged by what happens by a small scale of a place so I can say that I was fine whilst in Coventry. Regeneration is definitely the key for Coventry and its city center core, but I liked the concrete time warp feel that Broadgate exuded. Don't judge a book by its cover because the story might just surprise you!? I guess it's not so bad being 'Sent To Coventry!?' I shall let you be the judge of that!
Joseph Harrison