Today's blog post is another sensory play idea. I've posted about different activities and sensory toys before, and today's post is another 'toy' to add in to our sensory play time.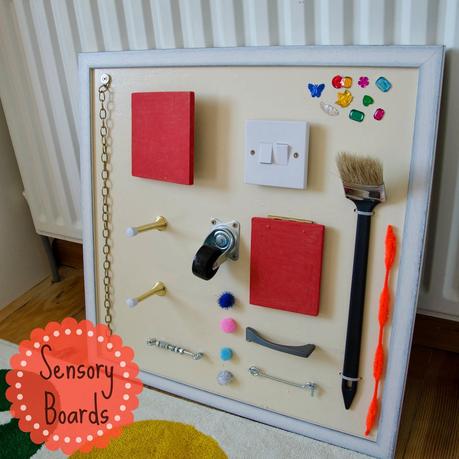 Sensory boards are simply another way to present sensory play materials. I like that everything on the board is available whenever Isabelle wants to go to it, unlike her other sensory toys which are kept in a basket and more difficult for her to access. This sits propped up against the radiator in the play room, which allows her to access it easily, and also stops her from touching the radiator when it's on.
The concept is simple - get a board and attach some every day items to it for your baby to explore. Simon had a board at work, and we spent around £20 in B&Q buying little bits and bobs to add on to the board. I wanted to present a range of textures and 'sounds', along with items which needed moved or manipulated in different ways to help develop Izzy's fine motor skills.
Simon attached the different DIY bits to the board using screws to ensure they were nice and tight. I added some pieces from our sensory and craft box, to add some softer textures and different colours. I used a hot glue gun to make sure everything glued down was very secure. As the nails came through the back of the board, he also added a backboard and a frame to secure the whole structure. Here's what we have on the board:
Two doors/flapsA hanging chainA handleA paintbrush2 doorstops
A double light switchA latch
A caster wheelA bar with nutsPom pomsFuzzy pipe cleanersPlastic gemsMetallic shapes
Isabelle loves her sensory board! It allows her to explore items which she usually wouldn't be able to access, and exposes her to a range of colours, textures, sounds and movements. She especially loves the 'boing' of the door stop, opening and closing the little doors Simon made for her, and banging the chain.
At the minute, our sensory board is still pretty basic, but the it's definitely suitable for Isabelle's current age. In the future we can take pieces off and add in new items to suit her changing abilities and interest. I'd like to make some mini boards too, especially one with lots of different material textures on it. Some ideas of things I could add in the future:
BucklesMirrorsCarabinersPegsRibbonShoe lacesFabrics scrapsA push on lightA door knockerA lock and key
Here is Isabelle enjoying her sensory board.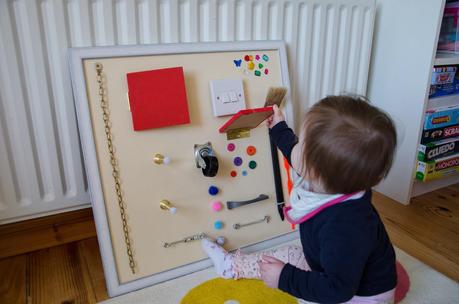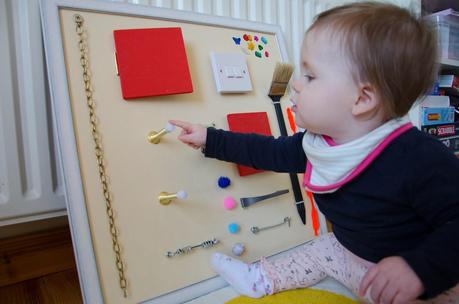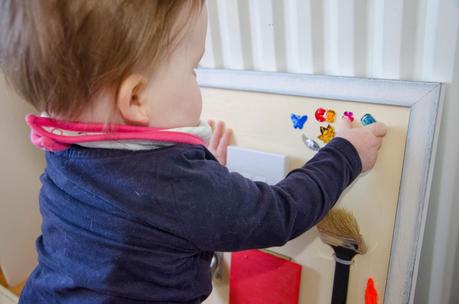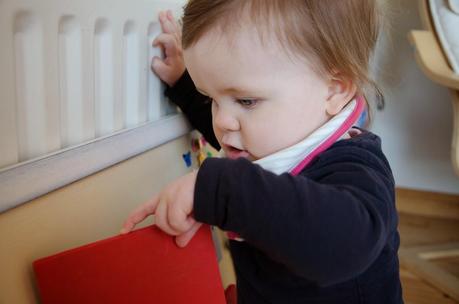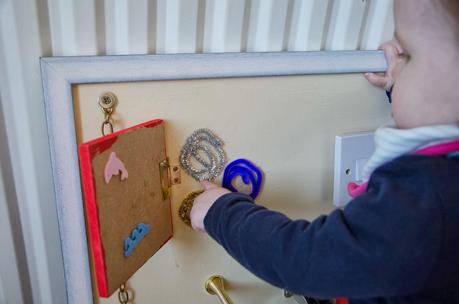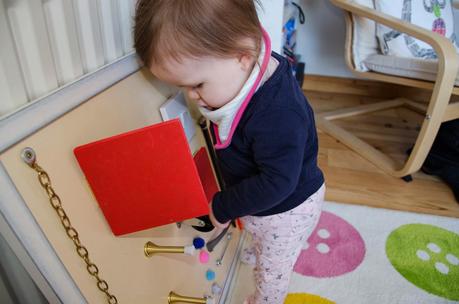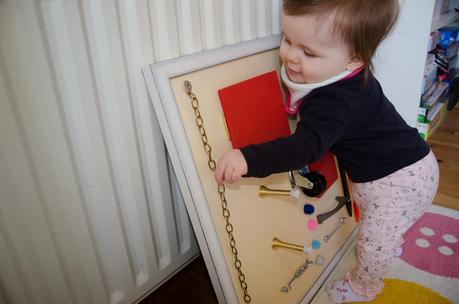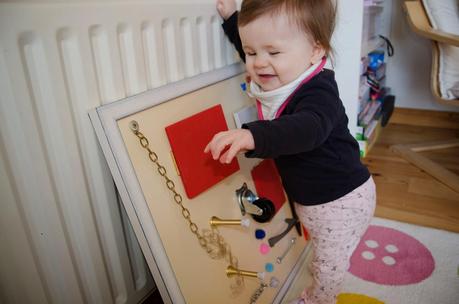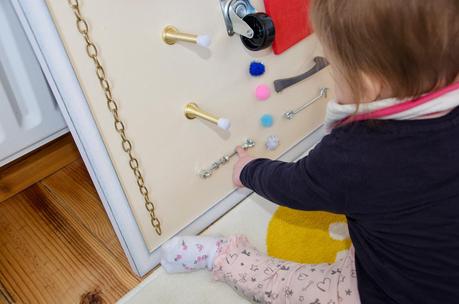 (Obviously, these things are NOT baby toys, so they need to be attached really securely, and it goes without saying that Isabelle is never left alone with her sensory board. Some of the items are small, and although everything is firmly attached, there is always a risk that they will come loose and become a hazard.)


Have you made a sensory board? Or have you any ideas for things we could add to ours?
PS - don't forget to enter my competition to win some Oxo Tot products!