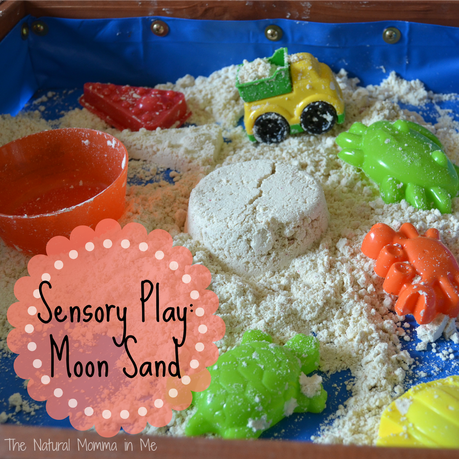 I'm sure almost everyone out there has heard of moon sand, and it's a really simple and fun sensory activity for little people of pretty much any age. I hadn't actually made any for Isabelle before, and now I am so sorry I didn't as it was easy to set up and we had so much fun playing with it.
If you haven't heard of moon sand, or don't know much about it, it's quite difficult describe. It's texture it a little bit like breadcrumbs, so it's crumbly and flaky, but it's also really mouldable, and you can use it to make any sort of shape, then crumble it down again. It seems to be almost two entirely different things which is what makes it such a wonderful sensory material for little people. It gives them so much to explore, and can be handled and used in lots of different ways.
So, how do you make moon sand? It's so simple, and you probably even have the ingredients in the house already. All you need is:
* 8 cups plain flour
* 1 cup baby oil
And mix! It takes less than 2 minutes to make, and older children will enjoy making it as much as playing with it.
I decided to make scented moon sand, as I quite often think that the sense of smell is overlooked in sensory play activities. So, I added 2 drops of essential oil (Lemon and Tea Tree) into the mixture as well. I did try to color it pink too, but the only colouring I had was a gel, and although I added it in it didn't do anything - liquid food colouring or powdered paint would work much better for next time.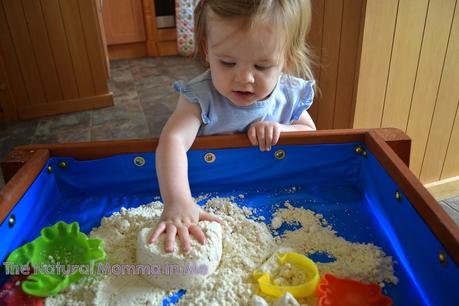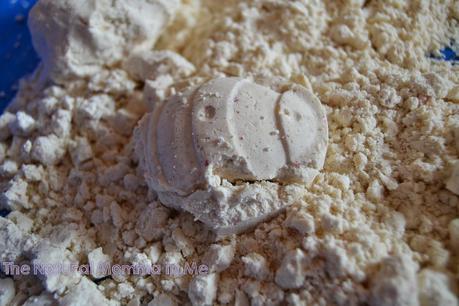 I used the water/sand tray which Isabelle got for her birthday as our play area. I was just about to set it up outside when the heavens opened, so we did it in the kitchen instead. Lots of mess on the floor, and I would much prefer to do it outside, but I put a bin liner down to try and limit the carnage! The tray worked well as it had quite high sides, and she was able to stand at it and potter round it.
Isabelle was slow to warm up to this activity - while I dived in gleefully - but once she did she seemed to really enjoy poking at the sand, and crushing anything we built up for her. She liked crumbling the sand between her fingers, and I encouraged her to give it a sniff a few times which she seemed to like! She liked to scoop it up in the bowl and watch it tumble out, and generally bash about! She also enjoyed scooping it out and onto the floor, which wasn't a highlight for me....
Overall, lots of messy fun was had, and at the end I packed the moon sand away into a ziplock bag, ready to whip out again at a moment's notice.