'Ball drop' maybe isn't the most eloquent name I could have given this activity, but at least it's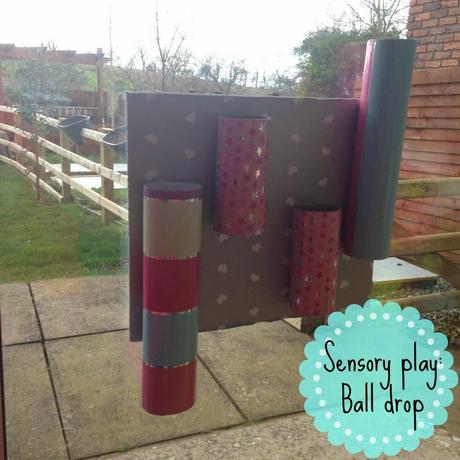 somewhat descriptive!
I decided this week to make Isabelle a small ball drop, using cardboard tubes from toilet roll and kitchen roll. I have seen similar activities online a lot, but never felt that Isabelle was ready to take part in this type of game until recently. Lately, she has been very much a fan of putting things 'in' other things. This started when her cousin showed her how to work one of her Christmas gifts by popping the balls in to the top. She had never shown any interest in it before - no matter how many times I modelled it - but he clearly has the touch as, since then, she has loved putting things into other things! We have a Lamaze toy which is entirely based around putting the balls into a pouch, and she never paid it any attention until recently, and now she adores it!
This activity is so easy to make, and you don't need to buy anything special (unless you don't use toilet roll I suppose!). I used 2 kitchen roll tubes and 2 toilet roll tubes to get us started. To make the whole thing look a bit more appealing, I used wrapping paper to cover the tubes, and hot glued them to a stiff piece of cardboard so they can be propped on a table easily. I suppose you could make it on a large piece of cardboard so it's free standing as well.
Once it was made, all we needed were some things to 'drop'. I didn't want too many items to overwhelm Isabelle, just a few was sufficient. I did want items of different shapes and sizes, and found that the kitchen roll tube was wider than the toilet roll tubes, so one of the balls from the game I mentioned above fits perfectly down the bigger tube, but not the smaller. This added a really interesting element to the game for Isabelle, as she had to figure out where the ball fitted, and so began to work on the concepts of size and how things fit together. I gathered up some fuzzy pom-poms, buttons, a Christmas bauble, a ball and a hair roller.
This game is amazing for hand eye coordination, and using the smaller items is also a great way of exercising pincer grip in babies. For older children, you could color code the tubes and the drop items, so they have to match the correct colours, and you could offer them tools to pick up the items and transfer them to the tubes. For school age children, you could play this Alphabet Ping Pong version, from that ever wonderful site The Imagination Tree.
Overall, a simple game to put together, and something fun to keep her occupied for a few minutes at a time.