In with the new, out with the old… well, while we are on the subject of old and new, let's talk about older dogs.
Senior dogs. (Do senior cats count, too?) Of course they do silly. If you know me, you know that. Once upon a time, I was living in a place in the LA area and a neighbor cat was skinny, too skinny and was going around asking for food. It seemed that the cat was homeless. And I fed the cat every day. In a short time, I found out from other neighbors that they were feeding the cat, too. Yet, the cat remained skinnier than skinny. Bones and fur.
It was suggested to me that I maybe should take the cat to a vet to see what was up and I did. I found a vet who took a few looks and tests and delivered a heartfelt decision. The cat had late stage cancer. Nothing could be done to put the cat out of her suffering. There were expensive treatments but in the end none of it would prolong her quality of life. I cir, the vet cried and suggested that I take the cat to the Pasadena SPCA. Thinking back, do not know why the vet didn't do the euthanization right there but maybe she would have had to charge me for it and I would not have been able to pay. Plus, I was not the owner.
Nevertheless, crying all the way, I proceeded to the shelter. There, they let me spend a few minutes alone with the cat to say goodbye. I did and did a prayerful meditation seeing the cat going up into the light and being greeted by friends, and surprising some of my relatives. Then, I handed the cat over to the technicians and they put her softly to sleep.
I cried all the way home. And a few days later, I ran into a woman neighbor who i got was the cat's owner. She asked about the cat and I told her what happened. She cried softly and thanked me over and over again for doing what she could not do for the cat. Apparently, her daughter had a baby and they did not know what to do with this cat that they had for 18 years. So they threw the cat outside to fend for itself. An indoor loved cat thrown out onto the mean streets. That poor cat suffered for a year or two for no reason other than her owner did not know what to do. Imagine.
These kinds of scenarios makes me crazy. How could people possibly be so cruel. And yet it happens every day with once beloved pets. The family moves, an elderly person dies or the family has a financial loss. Or maybe they just do not want to take care of a senior pet any longer or do not know what to do so they toss the pet out with the garbage.
Thankfully, there are organizations like Peace of Mind Dog Rescue in Pacific Grove who think that these senior dogs are valuable, deserve much more than being tossed out onto the streets at the end of their lives.
http://www.peaceofminddogrescue.org/bauercenter.html
POMDR rescues senior dogs, fosters them, and finds them forever homes for their golden years. They also help senior folks like me with their pets, getting them to the vet on time, assisting at times with a helping paw donation for vet care, and/or with much needed pet food or other items (collars, cones, kennels and more). POMDR is a 5013c and raises funds in numerous ways. One of the charitable organizations that helps to fund POMDR's great work for homeless senior dog s is the Grey Muzzle Organization .
According to their website, "The Grey Muzzle Organization improves the lives of at-risk senior dogs by providing funding and resources to animal shelters, rescue organizations, sanctuaries, and other non-profit groups nationwide. We are not a shelter or rescue. Rather Grey Muzzle funds programs such as hospice care, senior dog adoption, medical screening, and other special programs to help old dogs at animal welfare organizations across the country."
Grey Muzzle funding supports the following senior dog programs nationwide.
Adoptable dogs medical care programs
Hospice and long-term foster care programs
Seniors for Seniors adoption programs
Keeping dogs with their owners programs
Senior therapy dog programs
Animal food programs
Orthopedic dog beds for at-risk senior dogs in shelters nationwide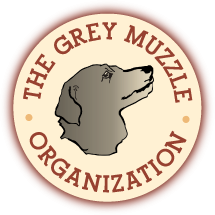 Thankfully folks like POMDR and Grey Muzzle care about senior pets and take care of them in proper fashion. As Cici ages (she is now 7), I want to make sure that she is properly taken care of in her golden years, too. It is good to provide a will and instructions for others to know how you wish your beloved pets to be taken care of after your demise and / or if you become bedridden and/or unable to care for them any longer. It is a relief to me to know that I can count on POMDR and Grey Muzzle to care if / when I no longer am able.
Now, here is what YOU can do to make a difference in the lives of senior dogs, too.
My fellow pet blogger, Edie Jarolim recently decided it was time to bid adieu to her beloved senior dog Frankie. And she made sure that he had a special bone voyage sendoff. She had provided Frankie with the best of care for him throughout his life, administering insulin shots twice daily, needed for his diabetes. And so at the end of his life, she wanted to do something really wonderful for him. So she fed him ALL of his favorite foods that had not been able to eat during his last 30 days.
Now, Edie wants every senior dog to have a loving send-off like Frankie did. She started "Frankie's Fund" via Grey Muzzle.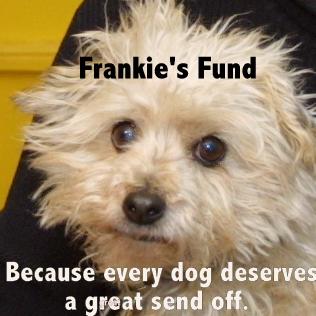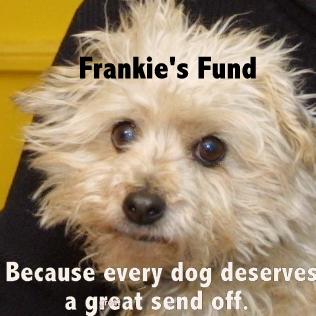 Every contribution that is made to them via Frankie's Fund will go to help hospice care costs. Grey Muzzle volunteers lovingly take in dogs that may not have long to live and provides them with palliative care and a loving home.
All donations will make a difference. Grey Muzzle is a non-profit 501 (c) (3) charity so contributions are tax deductible. When donating, please enter "Frankie's Fund" in the slot under "I want my donation to be dedicated."
Thank you.  And if you can do a donation today, it will be a good way to say out with the old 2013 and in with the new 2014.