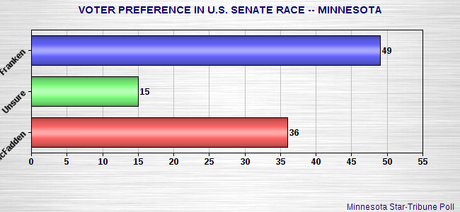 This is the Mason-Dixon / Minnesota Star-Tribune Poll that was done between September 8th and 10th of 800 likely Minnesota voters, with a 3.5 point margin of error.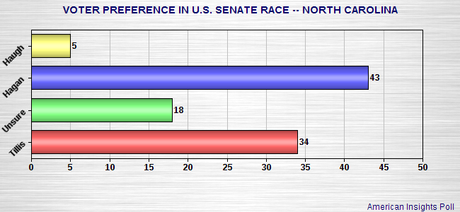 This is the American Insights Poll taken between September 5th and 10th of 459 likely North Carolina voters, with a 4.6 point margin of error.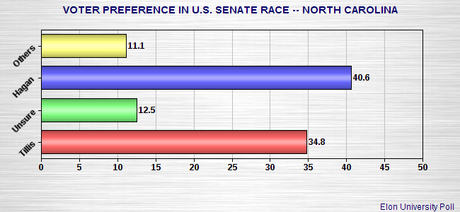 This is the Elon University Poll done between September 5th and 9th of a random sample of 1,078 North Carolina adults, with a margin of error of 2.98 points.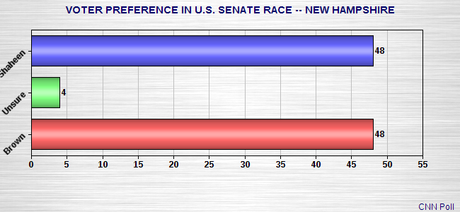 This is a CNN Poll taken between September 8th and 11th of 735 New Hampshire voters, with a margin of error of 3.5 points.
These are the latest senate polls that I am aware of, and with one exception, they look pretty good for Democrats. Franken has a double-digit lead in Minnesota (13 points), and Hagan is increasing her lead in North Carolina (now between 6 and 9 points). The one exception is in New Hampshire -- where a CNN Poll shows that race tied.
Frankly, I'm a little surprised at the New Hampshire Poll. Previous polls have all shown Shaheen with a pretty fair lead. Has Brown really completely closed the gap on Shaheen, or is this CNN Poll simply an outlier (and not to be believed)? I don't think we can answer that until we see some more surveys in New Hampshire.