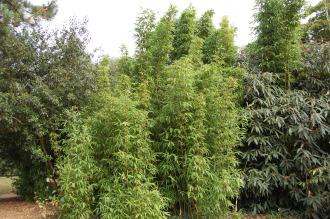 Semiarundinaria fastuosa (28/09/2014, Kew Gardens, London)
Position: Full sun to dappled shade
Flowering period: N/A
Soil: Moist, well drained
Eventual Height: 8m
Eventual Spread: 2.5m
Hardiness: 6b, 7a, 7b, 8a, 8b, 9a, 9b, 10a
Family: Poaceae
Semiarundinaria fastuosa is an evergreen bamboo with a clump forming, upright habit. Its dark green leaves are ovate with entire margins, up to 20cm long and 5cm broad. Its mid green culms may turn burgundy red in autumn. Its flowers appear as panicles and as with most bamboos the plant will die after flowering. Its roots are rhizomes which aids its slow spread.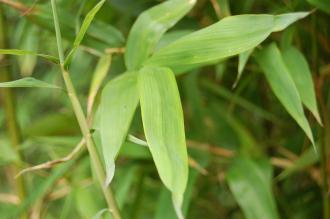 Semiarundinaria fastuosa Leaf (28/09/2014, Kew Gardens, London)
Semiarundinaria fastuosa, commonly known as the Narihira Bamboo or Temple Bamboo, is native to Japan. In its native habitat it grows in open woodlands and damp places. This bamboo has become naturalised in parts of the UK.
The etymological root of the binomial name Semiarundinaria is derived from the Latin semi meaning 'half' and arundo  meaning 'reed' and the suffix -aria which signifies 'belonging to'. Fastuosa is from the Latin meaning 'proud'.
The landscape architect may find Semiarundinaria fastuosa useful as a hedging or screening bamboo. This bamboo is tolerant of maritime exposure.
Ecologically, Semiarundinaria fastuosa is of little benefit to UK wildlife.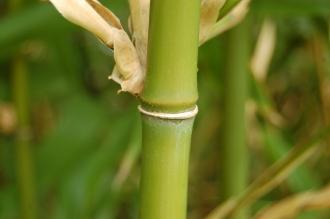 Semiarundinaria fastuosa Stem (28/09/2014, Kew Gardens, London)
The Royal Horticultural Society has given  Semiarundinaria fastuosa their prestigious Award of Garden Merit in 1993.
Semiarundinaria fastuosa prefers moist, humus rich, well-drained soils. It tolerates most pH of soil. It dislikes dry soils.
Semiarundinaria fastuosa requires little maintenance.