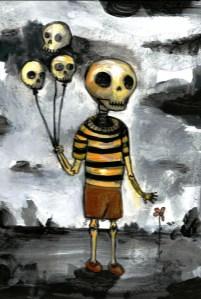 Sat down today–all day today–working towards an August 15 contest deadline for my Semi-Orphaned manuscript. Here is a quick excerpt:
Neto was over on the bed shirtless and crudo, still trembling and shaking his head at the reality of missing his father's funeral service. He raised both arms to smell his pits and to slap at his back pocket for a comb. He coughed and spat to the basement's concrete floor. He parted and pushed at his black hair.
This was all in 1983, before the winter ended. I remember Neto often visited from New Mexico to theAbuelito's home on Spruce Street in Huerfano, Colorado and slept off his drunks.
When he saw it was only me, he kicked off his sneakers and dropped his soiled pants and bent over in the posture of a small child to eat the plate of rice and beans I had for him. He shoveled it down with nicotine stained fingers.
"There's a lot of folks upstairs waiting on you, I said.
"You are the only Ortiz worth a damn left alive in this neighborhood," he complained.
His clothes were in two great big garbage bags and he stood still a minute as I dragged his only collared shirt out from under his stash of nudie magazines and fungus-looking weed.
I put his clothes to wash and asked out loud if he was my father.
"Listen to what I say, Manito. I can tell you this. Born into this world alone and die alone," Neto went on half-drunkenly, "family will leave you. Women will leave you. All you have is your own damned self."