By Philip Faure
A few months ago, the Cheetah Outreach contacted PPP to ask assistance with setting up a new camera grid in the Platjan area. Farmers in the area have been experiencing high levels of predator livestock attacks and would appreciate more information regarding predator abundances and densities. At last, after tracking down farmers, landowners, managers, and predators, this camera grid is now up and running thanks to Annie Casey and myself.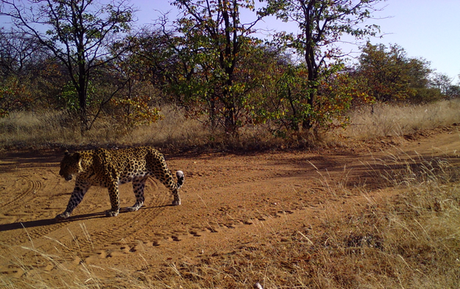 Leopard photographed in Platjan © Limpokwena Nature Reserve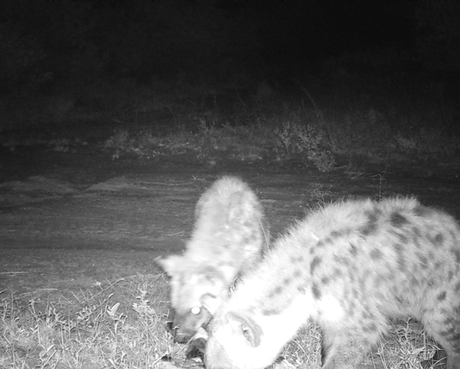 Spotted hyena juveniles from Limpokwena Nature Reserve, Platjan © Limpokwena Nature Reserve
Initially, we were contacted to help conduct a leopard density estimate for the area, but after speaking with some of the local farmers it became clear that there is a big population of spotted hyena as well. At least that's the general belief. It would be great to see what the actual density estimates for this area are. One thing is for certain, there are definitely a lot of leopard and hyena signs in the area. Across most of the area we placed cameras there were numerous tracks or scat found of both leopards and hyenas. Which makes this study all the more exciting from a researcher's point of view.

The Limpopo River forms the border between South Africa and Botswana.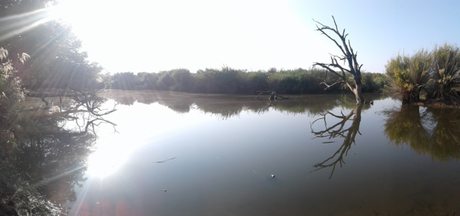 Mogalakwena River, Limpokwena Nature Reserve.
Farmers in the Platjan area experience high levels of livestock depredation from mostly leopard and spotted hyenas. Many use Anatolian livestock guarding dogs with their herds in order to minimize depredation by predators. Deon Cilliers from Cheetah Outreach has placed several dogs in the area to help farmers and predators live together. Likewise, Rox Brummer from Green Dogs Conservation has also done a lot of work in the area to help mitigate human-carnivore conflict. Together, they have made a significant impact and their Anatolians have proven successful. However, occasionally a calve or goat is still caught by a predator.
We have now placed 68 cameras over a 240 km 2 area. Being situated right next to the Limpopo River, which divides South Africa and Botswana, Platjan has some amazing wildlife. Elephants visit from across the Botswana border, hippos float in murky waters, you see an occasional log drifting down the river only to realize it's actually a crocodile, and dassies hold the fort on their little rocky outcrops. There are many different carnivores in the area, including occasional visits from some of the last free ranging South African lions, African wild dogs, cheetahs, hyenas, leopards, aardwolf, civets, genets, African wildcats, caracal, and servals. Being so close to Botswana, this is truly still a wild area. As wild as we can get on privately owned land.
What an amazing place this is to do camera trapping. Special thanks go out to Annie Casey (PPP Predator Assistant and Data Scientist) for all the hard work helping Philip! Also, many thanks to Riley and Syanne from the Limpokwena Nature Reserve for offering us the most comfortable accommodation with great chats and laughter around the fire!
Watch this space for project updates!