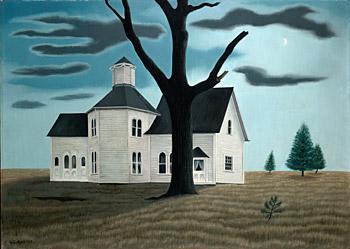 George Ault, Old House, New Moon, 1943, Oil on canvas, Yale University Art Gallery, Anonymous Gift
Some of the more interesting clouds these days are hanging out at American Art's exhibition, To Make a World: George Ault and 1940s America. These unearthly presences (for what else to call them?) suspend over our daily lives without judgment. And just when you think you've figured out a shape, it's moved on. Looking up always has its rewards--sun, moon, stars--but clouds seem to be an especially poetic site, even when they are all stormy and moody.
Judging by the exhibition, I'd say the 1940s were a good time to be a cloud. There's White Cloud by John Rogers Cox from 1943, where a puffy white cloud hangs over a parched landscape. But will it deliver the promised rain or not? Or take Ault's own Moon and Clouds, a graphite work on paper, with the clouds transforming into a kind of animal form--perhaps a creature that swims in the depths with multiple arms or legs. According to exhibition curator Alexander Nemerov, "the sky was an ocean for Ault, teeming with unfathomed life." Ault's wife Louise wrote about her husband, "Winter and summer in Woodstock he walked by moonlight, and watched the skies, keeping a sketchbook for cloud shapes."
There's really no "Best in Show" cloud that I could recommend here as all clouds are created equal, but a favorite at the moment belongs to Ault's painting, Old House, New Moon. These elongated, dark clouds look like they blew in from a Charles Addams cartoon, and in Ault's own words called to mind how "a witch rides a broomstick in a weird night sky."
Watching people get lost in the clouds is especially rewarding as when I watched one young person in the exhibition call across the gallery to her parent, "Mom, here's a really nice cloud." My advice: come inside and get your head in the clouds.