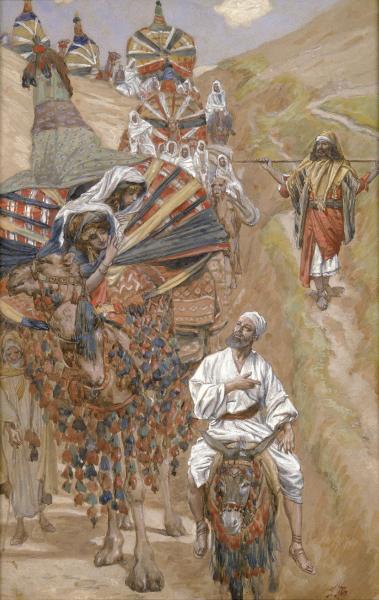 Yesterday, we looked at six parallels between the lives of Isaac and the Lord Jesus Christ. Today, we will consider four more:
Obedient Unto Death
Both Isaac and Jesus submitted to the will of their Fathers, even to the point of their own deaths:
"And they came to the place which God had told him of; and Abraham built an altar there, and laid the wood in order, and bound Isaac his son, and laid him on the altar upon the wood." (Genesis 22:9)

"And being found in fashion as a man, he humbled himself, and became obedient unto death, even the death of the cross." (Philippians 2:8)
Heirs Of All Things
Both Isaac and Jesus were Heirs of all things that their Fathers possessed:
"And Abraham gave all that he had unto Isaac." (Genesis 25:5)

"Hath in these last days spoken unto us by his Son, whom he hath appointed heir of all things, by whom also he made the worlds;" (Hebrews 1:2)
Bridegrooms Who Loved Their Brides
Both Isaac and Jesus were presented with brides whom they loved:
"But thou shalt go unto my country, and to my kindred, and take a wife unto my son Isaac…And Isaac brought her into his mother's tent, and took Rebekah, and she became his wife; and he loved her…" (Genesis 24:4, 67 a)

"Husbands, love your wives, even as Christ also loved the church, and gave himself for it;" (Ephesians 5:25)
Both Were Made Alive From That Which Was Dead
Isaac's birth is an illustration of resurrection, that is, life coming from death:
"And being not weak in faith, [Abraham] considered not his own body now dead, when he was about an hundred years old, neither yet the deadness of Sarah's womb:" (Romans 4:19)

"I am he that liveth, and was dead; and, behold, I am alive for evermore, Amen; and have the keys of hell and of death." (Revelation 1:18)
These are just ten of the major similarities between the life of Isaac and the life of the Lord Jesus Christ. We will notice more of them as we go into the life of Isaac in more detail.
To Jesus Christ goes all glory. In service to Him,
Loren
[This post was originally published February 16, 2010]
All Scripture quotations in this post are taken from the King James Version (KJV) of the Holy Bible
[If you do not know the Lord Jesus Christ or you are not certain where you are headed when this life ends, I invite you to read the article "Am I Going To Heaven?"]
Advertisements
&b; &b;